Travel With Christian Women & Support Your Sisters in the Holy Land
March is Women's History Month.
Join any of the intrepid Christian women who are leading Select International Tours pilgrimages in 2021 or 2022 and receive $150-off your trip PLUS Select International Tours will donate $50 in your name to Select to Give.
That donation will go directly to empower Christian women in the Holy Land. 
Simply mention "Women's History" on your registration and pay the deposit. We will credit you $150 on your first invoice.
Your deposit is guaranteed! If you need to change your plans for any reason, Select International Tours will hold your deposit for any future trip. 
*Please see additional terms and conditions below
Our Faith is Filled with Stories of Extraordinary Women
Join exceptional Group Leaders to visit the places where those stories began
Join These Women on Pilgrimage in 2021 or 2022
Click on their picture to choose your trip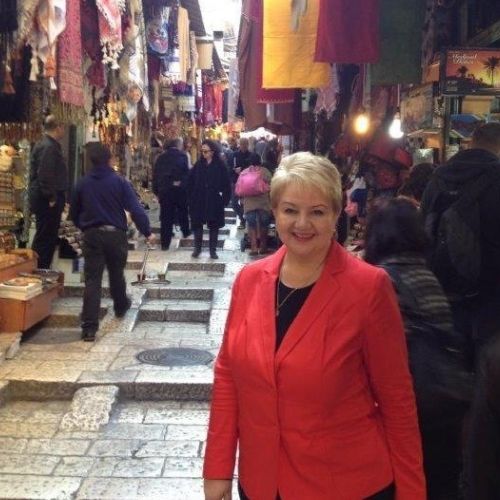 As a Christian Woman Business Owner, I Want to Give Back
I began Select International Tours in 1987. In March of the same year, the US Congress passed a publication designating March as "Women's History Month." The grace of God and the tenacity of great women throughout history afforded me an opportunity that so many have never known. I am grateful for their strength and sacrifice and it's fitting that Select gives back and allows women struggling in the Holy Land to stand on our shoulders to create a better world for all humankind.
That is why Select International Tours is donating $50 to Select to Give, our 501(c)(3) charity, for every person that registers through this promotion.
100% of those donations will directly support and empower a Christian Woman living in the Holy Land.
Hear How One Woman Convinced Me to Start Select to Give
*Terms and Conditions:
You must cancel 95 days prior to departure to take advantage of the Deposit Guarantee.
Women's History Month Special may only be applied toward the payment of new bookings for trips departing in 2021 or 2022.
Women's History Month Special may not be applied to existing orders and may not be combined with any other offer.
Women's History Month Special must be used by the designated registrant and is non-transferable, non-endorsable, and non-refundable. Limit one per traveler
Women's History Month Special must be purchased and paid for  by 11:59 PM EST on March 31, 2021
The designated discount will be reflected on your first invoice following the receipt of your registration and deposit.