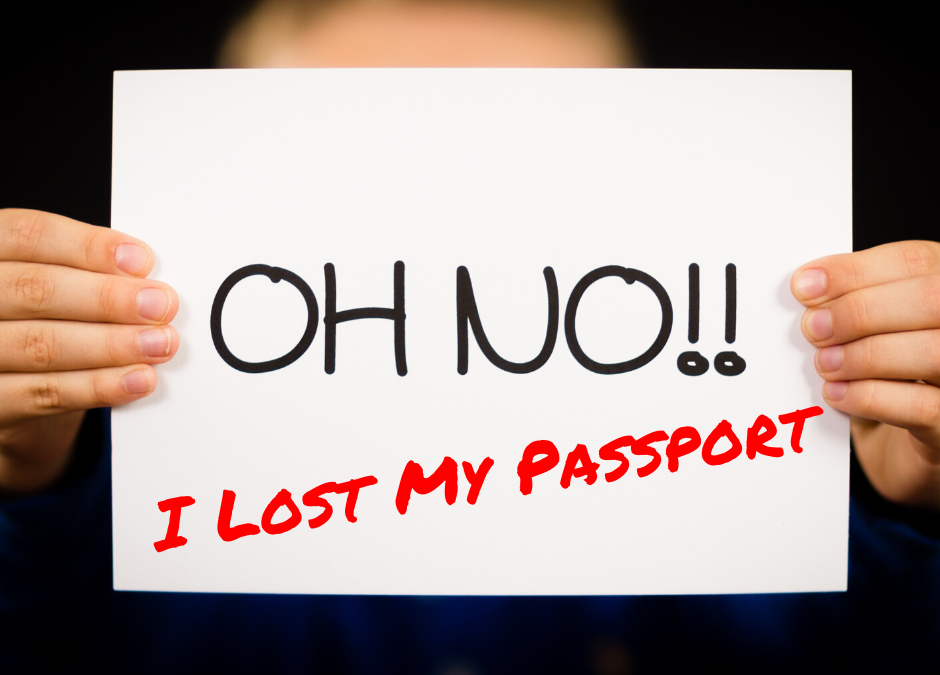 Oh no! I Lost My Passport!
Losing a passport while traveling doesn't have to ruin your overseas trip
.
There are a variety of ways travelers can protect themselves and obtain emergency replacements. Still, sometimes things go awry, headaches and unexpected costs can pile up when you don't have back-up plans.
Recently, one of our group leaders—while traveling with their group in Barcelona—had her bag stolen in a restaurant. The bag was slung over the back of her chair. While she got up to go to the buffet someone took her bag, including all her money, credit cards, and her passport. This was on the second day of a twelve-day trip, which included a seven-day Mediterranean cruise sailing to three different countries.
Our group leader immediately reported the incident to the restaurant management and insisted the police be called and a report filed. She then took a cab to the American Consulate where she was told she could be issued a passport the next day.  The problem was that the ship was sailing that evening.
She went to the cruise ship but was denied boarding as she did not have proper documentation. She helped her group of 42 people board and went back to the hotel where they were staying. The hotel was sold out and she had no reservations, but they helped her find nearby accommodations. She had borrowed money from the group for out of pocket expenses which were now piling up. She called Select International's Office from the hotel and we were able to get her a copy of her passport which helped with the American Consulate.
The next day she returned to the American Consulate and received her new passport. However because the ship had already sailed and was at sea for the next two days she missed out on that part of the trip, her group was without their tour leader, and she had to incur additional out-of-pocket expenses to purchase an airline ticket to meet up with the cruise ship, pay for additional meals, hotels, and transportation service. Two days later with a brand-new passport in hand and over $ 1200.00 in unplanned expenses she had caught up with the group.
Here a few things you can do to protect yourself from the added aggravation, expenses, and lost trip time that a thief or pickpocket can invite:
Don't carry your passport on you unless you must (i.e. when changing hotels or are informed by the tour manager to bring it). Most hotel rooms have safe deposit boxes where you can leave your passport, money and a spare credit card.
When you must carry your passport, always carry it on your person or in a bag that you never take off, or at least one that you only place on your lap during meals. NEVER hang your bag on the back of a chair or leave it on your seat while getting food or using the washroom.
Don't carry expensive jewelry with you while traveling and if you do leave it in the hotel room in the safe deposit box unless you are wearing it.
Leave a copy of your passport in the safe deposit box and another one at home with a family member or a friend. If you are traveling with a companion, each should carry a copy of the other's passport.
Prepare a separate list with your credit card info (without the security code) and cc company phone numbers (which you will need to report a stolen card) with you also to be left in the safe deposit box.
Don't carry all your cash with you and when you must, carry it in two or more locations (i.e. some in a purse and the rest in a money belt).
Be sure to empty out the safe deposit box before you check out of the hotel.
Your phone should always be password protected just in case it too is stolen.
In the rare case that your property is stolen, always insist on calling the local police and filing a report. With a copy of the passport and the report go to the nearest American Consulate or Embassy where they will be able to issue you a new passport usually within 24 hours.
Be sure to call your credit card company as soon as possible to report the stolen card.
Never pack your passport in your suitcase! It should be on you whenever you are carrying it.
Being prepared is the key to carefree travel!