About Select International Tours and Cruises
Select International Tours and Cruises (SITC) is a professional tour operator specializing in faith-based and educational group tours. Please read the following terms and conditions carefully before enrolling in any trip or remitting any payments.
These terms and conditions, in addition to our privacy policy, and any other documents provided by SITC to the Traveler constitute the entire agreement between the parties, and the parties agree to be bound by the terms of this agreement. All monies are in US dollars. Select International Tours and Cruises reserves the right to change its travel policies without notice. Please keep a copy of this policy for your records.
Questions Regarding Select International Tours and Cruises Travel Policies or Terms and Conditions
Any questions regarding Select International Tours and Cruises Travel Policies or Terms and Condition should be directed to Select International Tours and Cruises by phone at 908-237-9262, via US Mail at 85 Park Ave., Flemington, NJ 08822, or via email at guestservices@select-intl.com.
Traveler's Personal Responsibility
Physical Demands of Pilgrimage Trips
The Traveler agrees that pilgrimage travel often requires walking considerable distances over uneven and unprepared terrain and up or down stairs in all forms of weather. Many sites on pilgrimage trips lack accommodations for the physically impaired. Travelers agree that they are prepared for the physical challenges of pilgrimage and that they will not hold SITC liable for trip disruption or injury resulting from the physical demands of the trip as outlined in the trip brochure.
If a Traveler is unable or unwilling to keep up with the pace of the group, SITC Representative(s) will be happy to discuss actions a Traveler can take to catch up with the group. However, any additional transportation expenses, hired services, missed activities, etc. will not be reimbursed by SITC.
Questions regarding physical demands or your personal responsibilities should be directed to the SITC office at 800-842-4842 (in New Jersey) BEFORE you enroll in a tour.  SITC reserves the right to refuse any participant or potential participant at its sole discretion.
Traveler(s) Possessions
The Traveler's possessions are solely the responsibility of the Traveler. SITC assumes no responsibility for lost, forgotten, stolen, or confiscated items. SITC and our representatives cannot take on the responsibility of retrieving personal items forgotten on the bus or at restaurants, hotels, and airports.  SITC assumes no responsibility for the pricing, authenticity, or quality of any items purchased on the trip.
Travelers are responsible for understanding and adhering to local laws concerning behavior, controlled items, and substances. SITC assumes no responsibility for fines, arrest, or legal ramifications due to the Traveler's chosen behavior and or possession or use of controlled items or substances.
Dietary Restrictions and Concerns
Travelers who have specific dietary needs and restrictions are encouraged to disclose such to SITC in writing. While SITC will make a reasonable effort to notify its Representative(s) and third-party suppliers of the restrictions. We rely on multiple suppliers and airlines for service therefore, SITC cannot guarantee that all food on the trip will meet the Traveler's needs and restrictions. SITC assumes no responsibility for illness or harm from food consumed by the Traveler. It is the Traveler's responsibility to assure food meets their needs and restrictions while on the trip.
Special Medical Conditions
Travelers who require Special Assistance must report any disability requiring special attention to SITC in writing at the time of registration. If requested, SITC makes every effort to accommodate disabled passengers by reserving wheelchair assistance at airports and handicap accessible rooms for them where available. However, SITC cannot guarantee and is not responsible for any denial of services by carriers, hotels, restaurants, or other independent suppliers. Be aware that most SITC trips are operated outside the U.S. where the Americans with Disabilities Act is not applicable and facilities for disabled individuals are limited. Most transportation services, including the touring motor coaches, are not equipped with wheelchair ramps or lifts. We are happy to request pricing for wheelchair rental during the trip if requested in writing.
SITC regrets that it cannot provide individual assistance to any Traveler for walking, dining, while in their room, on or off any form of conveyance, or for other personal needs. A qualified and physically able companion(s) must accompany passengers who need special assistance. It is the Traveler's responsibility to arrange for such assistance prior to making their reservations.
Motorized scooters are often unsuitable and impossible to accommodate due to the nature of our trips. SITC assumes no responsibility for any medical condition that occurs prior to, during, or after the tour. Additionally, airlines are not able to guarantee or provide assistance for disabled passengers including special seating.
Breast-feeding and pregnant women considering international travel should evaluate the potential issues associated with international travel as well as the quality of medical care available at the destination and during transit. Travelers assume all risks as well as all medical costs, transportation requirements, lodging expenses, and all other associated costs necessitated by complications arising during the trip.
Young Travelers
Travelers who are younger than 18 years of age on the departure date must be accompanied by an adult. Due to heightened security, many countries have adopted practices to prevent international abductions of children. If a child will be traveling with adults other than the parents or with only one parent, it is recommended that a notarized letter be written by the parents or non-traveling parent granting authorization to the supervising adult, including the dates and destinations of travel. SITC also suggests that parents contact the appropriate consulate and airlines for additional requirements.
We accept younger travelers ages 8-12 traveling with one or two adults.
Safety Procedures
Select International Tours has undertaken a reasonable inquiry, with all the suppliers (including airlines, hotels, bus companies, and other service providers) used on our trips to ensure they have instigated the best available procedures regarding protective policies advised by local government and health authorities. The client understands and agrees that the supplier(s) may not apply those policies as diligently as the policies suggest. In addition, even if the supplier makes a good faith effort to enforce its good practices, some travelers may refuse to cooperate. Therefore, the client agrees not to hold Select International Tours or the trip's Group Leaders responsible should they or anyone on the trip contract COVID-19 or any other illness during or after the trip.
Agreement to Avoid Transmission of Illness
The trip participants agree to behave responsibly should they become sick during a trip. If the traveler should become ill while traveling, they agree to make every reasonable effort to reduce the transmission of their illness to the other travelers in their group. This may include–but is not limited to– wearing a mask when it is impossible or impractical to avoid close proximity with other travelers, frequently washing and sanitizing hands, covering coughs or sneezes, sitting apart from the group during meals, or staying back at the hotel while the group tours. Select International Tours reserves the right to ask the traveler to remain apart from the group if their illness may result in spreading to other trip members. Any costs incurred due to accidents or illness are the sole responsibility of the travelers. Purchasing travel insurance may help with unexpected costs due to injury or illness while traveling. 
Group Consideration and Itinerary Changes
SITC reserves the right to modify the trip itinerary due to schedule changes, cancellations of events, or other circumstances on the ground and due to airline schedules. Hotel changes, when necessary due to safety reasons or overbooking may be made last minute or while the group is traveling where reasonably required at SITC sole discretion, to best accommodate the group. 
After a trip has departed, itinerary changes may be necessary due to unforeseen circumstances, operational concerns, or concerns for Travelers' health, safety, enjoyment, or comfort. Any itinerary changes are at the sole discretion of SITC, its Guides, and Group Leaders.
Compensation to the Travelers will not be made due to necessary changes to the itinerary. We will do our best to notify the group leader of any changes however, SITC cannot guarantee that we will always have advance notice of such changes.
Required Travel Documents
The Traveler is responsible for obtaining and presenting the required documents necessary for travel. These may include, but are not limited to: a passport, travel visa where necessary, immunization record if required by the destination(s) visited, etc.
All Travelers must be in possession of a machine-readable passport that is valid at least 6 months after the trip return date along with any applicable visas.
When registering for a trip, the traveler is solely responsible for accurately and completely entering their passport information and uploading a copy of the picture page into our online registration system. If there is any change to the traveler's passport, it is solely the responsibility of the traveler to notify Select of the changes and to make the necessary corrections in their online registration profile. Any fees, fines, denials of entry, missed connections, etc. due to inaccurate passport information are solely the responsibility of the traveler. Select International Tours assumes no responsibility for errors or omissions made by the traveler.
It is the Traveler's responsibility to check if visas or special immunization are required and it is the traveler's responsibility to secure and/or pay for any and all visas, reciprocity fees, affidavits, immunizations, etc. that are required for entry to any country on the itinerary. Some countries may require entry (reciprocity) fees and/or departure taxes or exit fees to be collected at airports or border crossings, upon entry or departure, by local government authorities.
Please note that entry to any country may be refused, even if the required information and travel documents are complete. SITC bears no responsibility and will not be responsible for advising and/or obtaining required travel documentation for any guest, or for any delays, damages, and/or losses including missed portions of the trip related to incorrect or incomplete documentation or government decisions about the entry.
If a Traveler does not or cannot obtain the proper documents to travel, regardless of how or when the discovery is made, she or he will be solely responsible for any cancellation penalties that are in effect at the time of discovery.
Health Entry Requirements
SITC is not responsible for and does not advise on health-related matters for Travelers. Please speak with a health care provider regarding required/suggested inoculations, health concerns, and health advisories before traveling.
It is solely the Traveler's responsibility to ensure that she or he meets all health entry requirements and has obtained all inoculations, tests, and documentation required for entry to the destination. Any costs associated with required testing are solely the responsibility of the traveler and are not included in the cost of your trip. 
The traveler hereby agrees that due to ever-changing regulations, SITC is not responsible for notifying the traveler of changes in entry requirements, even though they will make reasonable attempts to inform travelers of such. It is the sole responsibility of the traveler to check and understand CDC guidelines as well as the specific requirements of the destination according to the destination's official government websites.
SITC does not represent or warrant that travel to any of the destinations offered is advisable or without risk. SITC will not be liable for damages or losses that result from travel to such destinations.
Payment Policy
The Traveler's reservation will be confirmed upon receipt of the trip deposit, completed Registration Form, complete passport information, including a copy of the picture page, and any other required information requested in the online reservation system for the trip. The actual amount of said deposit can be found on the registration form for that trip.
Final Payment
Final Payment for all trips is due 60 days before departure. Travelers may choose to pay trip costs in installments or lump sum payments. Payments may be made by check, money order, bank wire, or via credit card using the "Pay Invoice" button on our website. Please note that Stripe processes credit card payments, and there is a 4% credit card convenience fee on credit card payments. A late payment fee of $100.00 per person will apply for all payments received after the payment deadline.
Travel documents will not be mailed out or airline tickets issues unless payment is received on time. One participant's late payment may hold up the processing of the entire group documentation.
Last-Minute Registration Payment
Last-minute registrations (between 14-30 days of departure) require payment via certified check, wire, or credit card payment only.
Late Payments
All payments received after the final payment date listed on the trip page and brochure–including registrations received after the final payment date–will incur a $100 fee.
Past Due Final Payment
Any Traveler who has not paid their final payment within 30 days of departure will be canceled from the trip and be subject to the trip cancellation policy in force at such time.
Proof of Citizenship
A current, valid passport is required for entry to most countries. Many sites now require passport information to guarantee entry (i.e. Auschwitz). The Traveler is responsible to provide this information correctly and completely to SITC at the time of registration. If the Traveler's Passport is or will be expired, SITC may use the information to secure tickets and transportation, but a valid document will be required before traveling. Any errors or omissions in provided information, especially if they impact travel documents are the responsibility of the Traveler, and SITC will not be responsible for any costs, fees, or losses due to such errors and omissions.
Cancellation Policy
All cancellations MUST be in writing. Travelers wishing to cancel must notify SITC in writing by US Mail or via email (to the account manager listed on their invoice). The effective date of the cancellation and any cancellation penalties will be based on the date the written cancellation is received by SITC. Penalties imposed by the airline(s) or other travel suppliers for travel services not purchased through SITC are solely the responsibility of the Traveler.
General SITC cancellation policy: (this policy may change on some trips, please check the brochure documents for your trip-specific cancellation policy) *
More than 90 days before departure:
A minimum cancellation fee of $350.00* per person applies from the time of deposit until 90 days before departure.
Between 90 days and 60 days before departure:
A minimum cancellation fee of $500.00* per person applies from 90 days before departure until 60 days before departure.
Within 60 days of departure:
All deposits are non-refundable, regardless of the reason for cancellation.
Airline Tickets:
All airline tickets are non-refundable once issued.
Unused portions:
Unused portions of the trip are non-refundable.
*Please note that cruises and some trips (i.e. the Oberammergau Passion Play) may have different cancelation fees. Please see the trip brochure for details.
Tour Cancellations: 
Cancellation by Group Leaders, or due to state advisories and/or state warnings, acts of war, war, terrorism, acts of God, natural disaster, epidemic outbreaks, inclement weather, or any other circumstance outside the control of SITC, are not the fault of SITC and will not be eligible for a refund, regardless of the reason for the group cancellation. These cancellations will be treated as individual cancellations and subject to standard cancellation fees as outlined on the trip brochure. Should the trip be postponed to a future date SITC reserves the right to charge an administrative fee for the work completed and to offer Future Travel Credit governed by specific rules and regulations. SITC cannot guarantee any rescheduled trips will be identical in price and itinerary inclusions. For the protection of the travelers and their financial investment  SITC strongly encourages travelers to purchase optional Travel Protection, especially Cancel for Any Reason policy, which provides broader coverage in case of cancellations.
Airline Travel Policy
SITC utilizes group air reservations to best accommodate Travelers. Minimum ten passengers must be traveling together from the same gateway to qualify for a group rate. These reservations allow us to GTD air rates and space and organize group transfers which are included in the total trip costs.
SITC works with instant purchase airline tickets for all individual and domestic airfares. Airlines rates and reservations cannot be GTD if not paid for within twenty-four hours of the quote.  All special needs due to medical or dietary restrictions must be requested in writing at least 60 days prior to departure.
Advertised trip prices are in force until the trip deposit deadline. After the deposit deadline, SITC must release group air reservations. (generally about 90 days prior to departure).  SITC may still be able to accommodate last-minute Travelers, but the price is subject to change. Call SITC for options and pricing.
First Class, Business Class, and Economy Plus Upgrades
SITC is happy to assist Travelers who wish to upgrade the airline class. Travelers MUST be registered on a trip and request a quote in writing,  to receive a quote for the upgrade. SITC will quote the available rate and MUST receive payment-in-full (for the upgrade) before purchasing the tickets.  Until the tickets are issued, prices are subject to change. SITC cannot request specific seats for tickets booked in any class.
Domestic Add-On Tickets
SITC can assist Travelers with domestic air reservations to connect with group departures. Travelers must be registered on the trip and request a domestic air add-on, in writing and must include the city of departure and preferred flight time. Once SITC receives the request, the Traveler will be notified of the additional cost.
SITC works with instant purchase domestic airfares, which requires acceptance within 24 hours of the offer along with full payment otherwise, the rate is subject to change based on availability. SITC cannot quote any domestic air add-on requests more than once.
Seat Requests and Changes
SITC DOES NOT and cannot aid with seat selections or seating preferences. SITC can request specific seats for medical reasons only, however, the airline may or may not accommodate the request. If a Traveler requires very specific seats, she or he may wish to choose a "Land Only" option and book her or his own air travel.
Please note that airline customer service is sometimes unaware of specific limitations in group air reservations and will direct customers to SITC for seat changes. However, the group air reservation's provisions do not allow SITC to assign seats.
Required Passport and Visa Information
Airlines require SITC to have complete and correct Passport information for each Traveler. Please see the "Required Travel Documents" section of this document. SITC is not responsible for additional fees, and price increases for reticketing due to incorrect or incomplete information on registration documents.
Frequent Flyer, TSA Pre, and Global Entry Numbers
The Traveler may provide these numbers directly to the airlines once they receive the trip documents from SITC or at the airport prior to departure.  SITC cannot change or add these numbers to the reservations. Please work directly with the airline after tickets are issued.
Baggage
SITC assumes no responsibility for airline baggage fees, or any losses, or damages to the luggage during the flight or the trip.  Please check with your airline for baggage limitations, restrictions, and policies. We do not provide baggage handling at the airport or train stations and some hotels may not have baggage assistance available. All our trips permit one suitcase of no more than 50lbs and one small carry on no more than 18lbs which can be stored in the airline overhead compartment. Ladies may have one purse with them as well. If due to excess luggage we are required to bring in additional vehicles to transport the luggage during the trip the cost of the additional vehicle will be split among the group members.
Flight Cancellations, Missed Connections and/or Delays
SITC is not responsible for flight delays, missed connections, and/or flight cancellations. Travelers should work directly with the airline for rebooking. SITC is not responsible for any costs, losses, or damages incurred due to flight delays, cancellations, or missed connections. These may include, but are not limited to, additional baggage fees, hotel stays, meals, or transportation fees.
Travelers may file a Travel Protection claim to recoup these costs. Please see the "Travel Protection" section in this document. Be sure to save all receipts and documentation.
"Land Only" Travelers
Travelers may opt to purchase their own air transportation to accommodate deviations or seat selection. They may also choose this option to use "miles" for payment. SITC is happy to assist "Land Only" travelers in meeting the group. However, airport transfers are not provided for "Land Only" passengers if arriving at different times than group flights.
If the Traveler(s) require private transfers, she or he is responsible for the arrangement and cost of such.
Travelers who registered for group air, who later decided to switch to "Land Only" are responsible for a $150.00 service charge, should the change be made within 90 days of departure.
Use of 3rd Party Suppliers
SITC and its employees, agents, and representatives use third party suppliers to arrange tours, transportation, sightseeing, lodging, and all other services related to this tour. SITC does not own, manage, operate, supervise, or control any transportation, vehicle, airplane, hotel or restaurant, or any other entity that supplies services related to your tour.
SITC is not affiliated with any other tour operator. All suppliers are independent contractors and are not agents or employees or representatives of SITC. All customers agree that neither SITC, nor its employees, agents, or representatives are or may be liable for any loss, sickness, injury, or damage to any tour participant or their belongings, or otherwise, in connection with any service supplied or not supplied resulting directly or indirectly from any occurrence beyond the control of SITC.
Delays and Changes in Schedule
SITC assumes no responsibility or liability for any delay, change in schedule, loss, sickness, injury or damage or loss of any participant that may result from any act or omission on the part of others; and SITC shall be relieved of any obligations under these terms and conditions in the event of any strike, labor dispute, an act of God, or of government, fire, war, whether declared or not, terrorism, insurrection, riot, theft, pilferage, epidemic, illness, physical injury, quarantine, medical or customs or immigration regulation, delay, or cancellation.
SITC accepts no responsibility for lost or stolen items.
Acknowledgment of Risks
By offering reservations for travel in particular international destinations, SITC does not represent or warrant that travel to such areas is advisable or without risk. SITC will not be liable for illness, damages, or losses to persons or property that may result from travel to such destinations. It is the Traveler's responsibility to determine her or his level of risk tolerance, including the decision to participate in a tour to a country or continent where US State Department alerts and warnings have been issued. If the tour is scheduled to operate (i.e. not canceled by SITC), standard cancellation policies apply if the Traveler elects to cancel because her or his risk tolerance has been exceeded. Please consider a travel protection policy to protect your travel investment.
Other Risks
Other risks and dangers may arise including, but not limited to, hazards of travel by train, automobile, motor coach, aircraft and other means of conveyance, animal interactions, forces of nature, political unrest, other unrest, health risks or epidemics, food poisoning, risks associated with water, food, plants, insects and differing animal regulation, civil unrest, terrorism, acts of national and local governments,  unrest and acts of others against governments.
The Traveler attests that she or he is voluntarily participating in the trip and all activities planned with the knowledge that there are potential dangers involved, and hereby agrees to personally accept any and all risks. The Traveler will not hold SITC responsible for the choice of the airline, hotel, bus company or any other service providers should an accident, injury, illness, or any other damage or loss incur during the trip.   As lawful consideration for the agreement with SITC to participate in such trips and activities, the Traveler agrees that she or he will not make any claim against SITC, its related companies, third-party suppliers, or its personnel or sue for bodily injury, sickness, emotional trauma, death, property loss or damage or other loss, cost or expense, however, caused, as a result of or related to contracting for, traveling to or from, or in any and every other way participating in the trip. The Traveler releases SITC, its principals, related companies, third-party suppliers, and its personnel from any and all claims, known or unknown, arising from contracting for, traveling to or from, and in any and every way participating in a trip.
Where the Traveler occupies a motor coach seat fitted with a safety belt, neither SITC nor the Operator nor its agents or co-operating organizations or service providers will be liable for any injury, illness or death or for any loss or damages or claims whatsoever arising from any accident or incident, if the safety belt is not being worn at the time of such an accident or incident. This exclusion and limitation of liability shall not be used to imply that the Operator or its agents or affiliated entities are liable in other circumstances
This release of liability and assumption of risk agreement is entered into on behalf of the Traveler and all members of her or his family and party, also including minors. This agreement also binds the Traveler's heirs, legal representatives, and assigns.
Pandemic
The Traveler and their families agree not to hold Select International Tours responsible should they, anyone on the trip or their family members, and people they come into contact with contract COVID-19 or any other illness during or after the trip. The Traveler also agrees that any medical or additional (travel) costs necessary due to the possibility of contracting any illness, including COVID-19, will be the sole responsibility of the traveler.
Force Majeure
SITC is not responsible for and no damages are due to a Traveler for failure by SITC to perform obligations related to the delivery of tour services if such failure results from Acts of God (including fire, flood. Hurricane, storm, or other natural disasters), war, invasion, acts of foreign enemies, cyber-attacks, hostilities, terrorism, nationalism, government sanction, blockage or embargo, labor dispute, strike, lockout, interruption, or failure of any mode of conveyance, electricity, internet or telephone services, or illness, accident, or death of the SITC Representative. Optional Trip Protection is strongly encouraged.
Safe Together
You agree to adhere to and cooperate with the guidelines provided by SITC, your Guide and Group Leader, health authorities, and governments in the countries to which you are traveling. Health standards and safety protocols include but are not limited to "Safe Together" measures such as physical distancing, wellness checks, protective wear, enhanced hygiene. Daily temperature checks, wearing of masks, frequent hand washing, full disclosure in case of the onset of unusual health symptoms, and willingness to seek medical attention immediately in case you are not feeling well. Failure to do so may be considered Traveler Disruption and is subject to the Terms and Conditions regarding such.
Credit Card Payments
For the convenience of the Travelers, we accept payment by Visa, MasterCard, and American Express to be processed by Stripe. All our list prices are based on cash/ check payments. Credit card payments will incur an additional non-refundable credit card convenience fee of 4%. Should the trip or the reservation be canceled, the refund will not include any credit card charges.  The Traveler agrees to all the charges made and agrees not to open up claims, attempt chargebacks, or refuse payment to the credit card, regardless of circumstances. Any claims may be settled directly with Select International Tours.
Traveler Disruption
SITC reserves the right to remove any Traveler should an SITC Representative(s) determine that the Traveler is adversely affecting the group, has become a danger to her or himself or others or is willfully ignoring the instructions of the SITC Representative(s) to the detriment or safety of the group. In the event a Traveler is removed from a trip, SITC will not refund any monies. Additional transportation, lodging, penalties, and any other associated expenses due to the removal are the sole responsibility of the Traveler.
If a Traveler decides to leave a tour in progress, prior to its scheduled conclusion, for any reason, SITC will not refund any monies for the unused portions of the trip. Additional transportation, lodging, penalties, and all other expenses due to the departure are solely the responsibility of the Traveler.
Should a Traveler become sick during the trip, requiring medical attention and or hospitalization or requiring special travel arrangements including purchase of return airline tickets, all expenses are the responsibility of the Traveler and must be paid at the time the services are rendered.
Use of Travelers' Images in Promotional Materials
Photographs and video taken by SITC, it's Representative(s), Group Leaders, and third-party suppliers while on the trip are the property of SITC and may be used in promotional materials or for social media and online posts.  Any Traveler who does not wish to have their photograph or video footage used in promotional material MUST advise SITC, in writing, no later than the trip's final payment due date.
Severability
If any provision of these terms and conditions shall be held unenforceable, such provision shall be struck and the remainder shall remain enforceable.
Jurisdiction and Applicable Law
By signing the Registration Form for the trip, the Traveler agrees to be compliant with the Terms and Conditions outlined here and confirms they have read and understood them.  These Terms and Conditions (also referred to as "travel policies" and/or "your agreement with us") and any agreement to which they apply are governed in all respects by the laws of the state of New Jersey without regard to conflicts of law principles.  Any legal action taken must be filed in Hunterdon County, New Jersey, and is governed by the laws of the state of New Jersey. All Traveler claims must be submitted in writing and received by SITC no later than thirty (30) days after the completion of the SITC trip.  A Traveler's claims not submitted and received within this time shall be deemed waived and barred.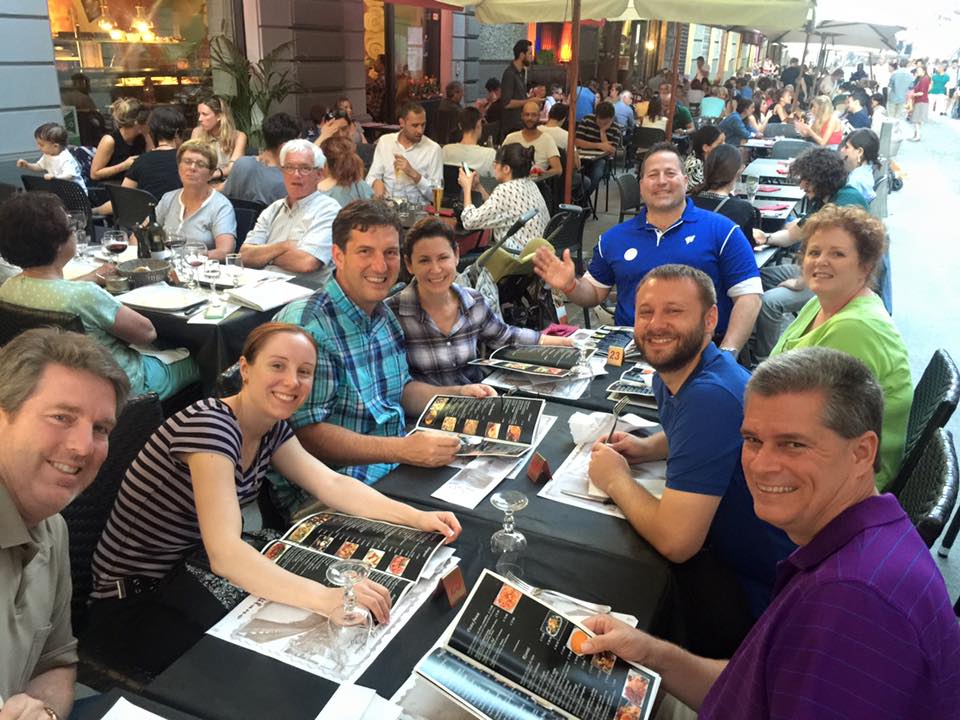 Please review our terms and conditions carefully and feel free to contact us if you have any questions.
Table of Contents
Click on any section to jump directly to it.