Growing up Catholic, I, of course, had been to the Good Friday liturgies, but doubt that I really understood or fully appreciated the Passion of Our Lord. As an adult, I was blessed to go to the Holy Land, where I got a glimpse into the life of Christ, saw where He was born and lived, performed miracles, and ultimately where He suffered and was put to death.
In the year 2000 I was again blessed, this time to travel to Germany and attend the Oberammergau Passion Play where I received a deeper appreciation of Our Lord's Passion.
The Oberammergau Passion Play is held every 10 years in this tiny village….and the whole village participates. Actor's roles are handed down from generation to generation. I traveled with a group….mostly adults….made up of men and women from different parts of the country. I highly recommend traveling with an organized group because everything is arranged so no need to worry about hotels, tickets, meals, etc.
.We arrived in the picturesque town of Oberammergau the afternoon before the play. After checking in to our hotel, we had a bit of time to do some sightseeing and shopping. It's a shoppers paradise where there are so many quaint and interesting places to browse. One little shop specialized in cuckoo clocks, for which this area is famous. I bought one and had it sent back home. It arrived a few weeks later safe and sound. It still blesses our home with a cheerful little coo-coo and delightful music every hour. There's also a precious little Christmas store where you can find very unique ornaments and other festive items.
Despite the fact that there are thousands of people coming and going each day, Oberammergau continues to feel like a small, quaint village. We enjoyed the ambiance and had dinner at the hotel before resting up for the play the next day. Something I had not realized before, was the fact that the Oberammergau Passion Play is an all-day affair: The play started at 9:30 a.m., a lunch break from 12:15 to 3 p.m. and ended at 6 p.m. It is an open-air stage, but a covered seating area. All seats are assigned….fortunately, our tour company relieved us of that task. The whole production is entirely in German, which I, for some reason didn't expect. But, as you enter, everyone is given a book with the dialogue translation in different languages, including English. And truth be told, I did not often use the book because the play was so moving, the music and singing so amazing, and I pretty much knew the plot. I think the book would have been more of a distraction than anything else….but it is there for those who prefer it.
The play begins with Jesus' entry into Jerusalem on Palm Sunday. Then we share the somberness of His Last Supper, where He institutes the Sacrament of the Eucharist; His agony and prayer in the Garden of Gethsemane; the betraying kiss of Judas; His trial before Caiaphas; then Pilate; His scourging and crucifixion; and finally, His triumphant resurrection.
The sets and costumes are great. The whole day and performance are just magnificent. I believe everyone in our group was profoundly moved. I remember one man, a big burly kind of guy, who broke down in tears during the scene depicting Jesus being taken down from the cross and into the arms of His mother Mary. For my part, I felt as if I had really lived through the Passion of Our Lord in a way that I had never felt nor appreciated before.
When our group boarded the bus for our departure the next day, I think we all agreed that everyone was profoundly touched and spiritually enriched by the Oberammergau Passion Play. Sadly, for only the second time in history I believe, the 2020 play has been postponed due to the Corona Virus. It has been re-scheduled for 2022. Since the play was almost fully booked prior to the arrival of the virus, many of those people have simply switched their reservations to 2022, so if you want to attend, you had better sign up in the next few months, or you will miss out on this enriching experience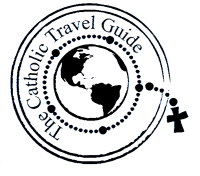 About the Author
Gloria Barr runs the Catholic Travel Guide website. The site is, "designed to be a place for Catholics to get useful information about destinations and more from a Catholic perspective."