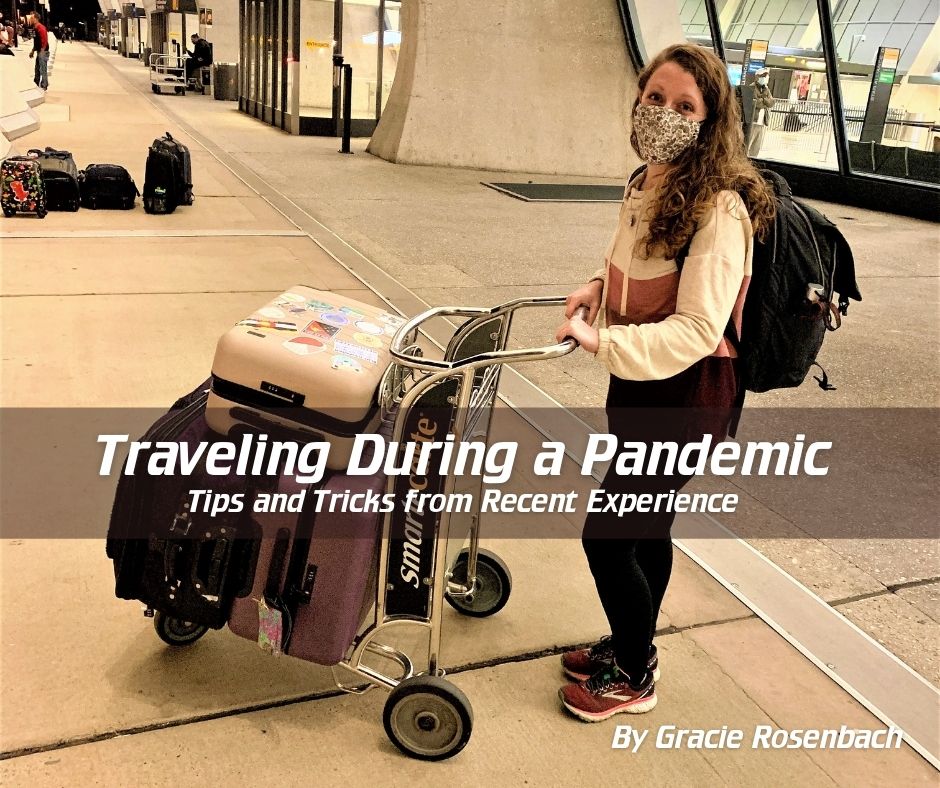 Is it safe to travel? How are airlines and airports ensuring the health of their customers? What are the different state and country requirements for arrival – is there testing or quarantine involved? 
These are all questions I recently asked myself (and Google) before I armed myself with many masks and bottles of hand sanitizer and embarked on my first domestic and international trips during the COVID-19 pandemic. Travel of course looks very different right now, and our own health and comfort levels should be carefully considered before booking a trip. However there have been many changes to airline and airport protocols during the pandemic to enhance the health and safety of travelers, some of which will likely be maintained even after COVID-19's peak has passed. Ultimately my domestic trip from Washington, D.C. to Florida, and my move abroad to Rwanda both went smoothly and allowed me to compare what different airlines, airports, and destinations are doing to prevent the spread of COVID-19. 
Prior to Travel
Booking flights was a bit more challenging than usual because there are less options due to reduced airline service. The usual flight I take to Florida was temporarily suspended, so I booked a United Airlines flight out of Washington Dulles Airport. We've learned this year that things can change very quickly – whether it's flight schedules or incoming passenger requirements – so it is important to have a plan in place to accommodate these changes. Booking through a travel company like Select International can take the stress out of this process since they work with so many airlines and are always familiar with the most up-to-date policies of each.
I was sure to check baggage requirements far in advance. United Airlines still allowed one carry-on and one personal item, however, I flew Turkish Air to Rwanda and they only allowed a personal item in the cabin to avoid congestion in the plane's aisle, and so they checked my usual carry-on for free.
I also looked up entry requirements for Florida and Rwanda. Florida had none, but Rwanda, like many popular destinations including Israel/the Holy Land, required a negative COVID-19 test within 3-5 days of departure (as well as an online form to be filled). I'd heard many different stories about testing requirements and the timing of receiving results that it was difficult for me to identify a clinic that could promise the quick turnaround required for travel. I ultimately received a recommended list of clinics from the D.C. Department of Public Health and had to pay out of pocket for an expedited test. This was a very difficult and frustrating pre-departure step that might have been avoided had I booked through a travel company! 
At the Airport
Checking In
For my domestic flights, I was grateful to be able to check-in online prior to arrival in order to avoid the crowded check-in/bag-drop area. For my international flight, because Rwanda required certain documents, I had to go to the desk to get my boarding pass and check my bags. Social distancing was observed while waiting in line to check-in, but because the desks are so close together, it got very crowded when I was working with the ticketing agent. I had to show a variety of documents (negative COVID-19 test, completed Government of Rwanda form) to the ticket agent, so it was good that I had printed out everything ahead of time. I would recommend arriving at the airport early because every country has different entry requirements and so the check-in process takes a long time for everyone – I flew through Istanbul to Rwanda, and because Istanbul is a hub, each of my fellow travelers' end destinations were different and required varied check-in procedures.
TSA
I experienced TSA both with and without Precheck and was pleasantly surprised with both. Passengers respected social distancing while waiting in line, although not so much when placing/removing their items from the conveyer belt – but I figured that might be the case! However, Precheck had the large advantage of not having to remove my shoes or electronics, which significantly sped up the whole process and reduced the number of bins I had to touch. If you have TSA Precheck, be sure to let your travel company know so they can indicate that with the airline when they purchase your ticket! 
Gates and Lounges
The airports were definitely less crowded than normal, but of course, the gate areas were a bit busy. Many people tried to distance by sitting in gates that didn't have any scheduled flights – this was easier in the bigger airports and in the evenings when less flights were scheduled. I checked out the Turkish Air lounge in Dulles to see if it was less crowded (I assumed they might be limiting the number of entrants).  The main area of the lounge was actually quite crowded, but thankfully I found a back room that many others hadn't discovered yet. 
Flights
Boarding
Airlines are trying to board as efficiently as possible, which for United meant telling customers to ignore the boarding groups on their boarding passes and to listen for their row to be called. This created confusion because the screens still said the boarding groups, so what resulted was a bunch of people crowded around the boarding door – the exact opposite of what they were aiming for! My international flights seemed a bit more health-conscious: Turkish Air took everyone's temperature before boarding and gave us all a hygiene kit containing masks, hand sanitizer, and antiseptic wipes (United also gave one antiseptic wipe when boarding). Despite these differences, it's clear that all airlines are working hard to protect passengers and staff, and this is clearly a very new world that we are all learning to adapt to! 
In-flight
Flight attendants constantly reminded us to keep our masks on unless we were eating. Passengers on my international flights followed this rule much better than those on my domestic flights. Each flight gave us snack bags (domestic) or meal bags (international) with no other options for food or drink. The United snack bags contained water and biscuits, and the Turkish meals included a sandwich, dessert, water, and juice. Both airlines also provided more antiseptic wipes with the food, and Turkish continually passed out additional water bottles throughout the flight. I decided to wait to eat until the people around me had finished so that we didn't all have our masks off at the same time. As for other amenities, we were given individually wrapped headphones on all of the flights, and the international flights provided individually wrapped blankets, but no pillows. Neither airline seemed to be restricting middle seats; about half of my flights were almost completely booked, and half were at about 50% capacity – it seemed to just depend on the demand for each flight and the size of the plane.
Deplaning, Luggage, and Immigration
All flights were deplaned orderly by rows. One of my United flights gate-checked all rolling bags because of the small plane, which led to a lot of congestion on the air bridge to retrieve our luggage. For international travel, every country will have different health and immigration rules, but I imagine some will be similar to my experience in Rwanda. Immediately on arrival a health official took my temperature and pulled up the form I had submitted prior to travel. He confirmed that I had not been experiencing any COVID-19 symptoms, and then I was able to pass through to immigration. Everyone socially distanced in the Kigali airport for immigration and luggage pick-up.
My Takeaways
Overall my recent flying experiences went very smoothly. Because of my own precautions – lots of hand sanitizer and continual mask-wearing – I felt safe on these flights (and thankfully I can now confirm that I remained healthy after)! My main tips for anyone traveling would be:
Check updated airline rules and procedures – many have changed their luggage policies, and all have specific mask guidelines. It's also helpful to get a sense of the meal service (or lack thereof) so you can plan ahead.

Bring a surplus of masks and hand sanitizer – although airlines provide some items, it's best to bring your own to be safe.

To the extent possible, avoid congested areas of the airports – you can do this by checking-in online, using TSA pre-check, and potentially by obtaining lounge access.
As vaccines roll-out and travel begins to increase again, many countries are opening back up with specific entry guidelines in place to keep their citizens and visitors safe. However, no two countries are the same. For example, starting in April, Israel/the Holy Land will begin welcoming visitors who have received a negative COVID-19 test within 3 days of departure and who have obtained comprehensive health travel insurance; which while similar to the requirements I encountered for Rwanda, are not identical. Therefore, choosing to book your upcoming travel with a tour company like Select International is a great option to reduce the stress of figuring out each country's and airline's requirements and to ensure you have a safe, healthy, and enjoyable trip!
(Please note that these trips were taken between September-November 2020; the details provided are accurate of my experiences during that time, however airline and airport policies may have since changed).

About the Author
Gracie Rosenbach is an international development professional who is passionate about travel and loves experiencing the beauty of Catholicism all over the world. Working in international food policy by day and sharing stories of the Universal Church on her Instagram and blog by night, Gracie hopes that her experiences meeting new people and visiting Catholic sites around the globe will inspire your wanderlust and help you to grow deeper in your faith.