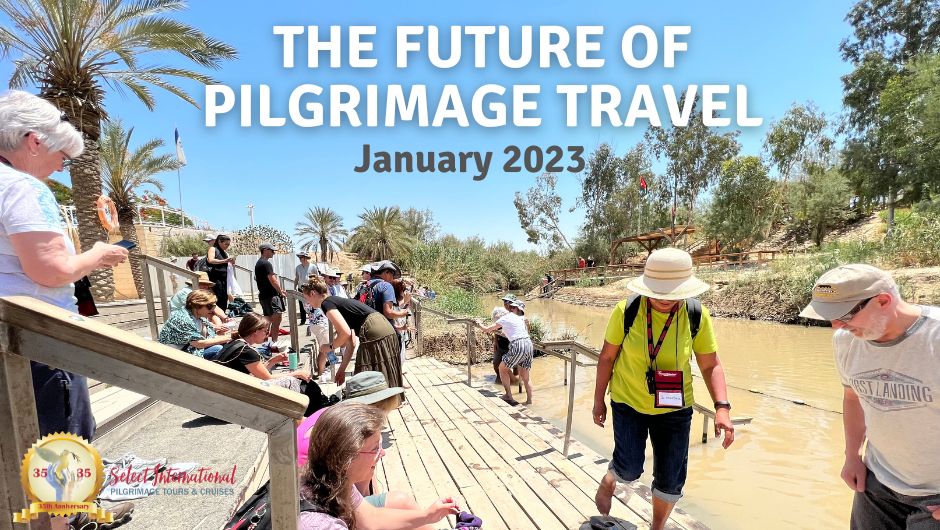 The New Year celebration in the Select International Tours office was filled with significantly more reverie than in the recent past. As of this writing, there are over 96 pilgrimage trips planned and taking reservations for 2023. A number of them are already sold out or are close to selling out. It seems that everyone is ready to travel!
As you get ready for your next (or first) trip, there are a few changes that you should be aware of.
Travel Health Insurance Requirements
Thankfully the restrictions on travel we saw from 2020 to early 2022 have been lifted. However, COVID-19 continues to be a challenge, and recently Israel has announced that it is requiring visitors to have health Insurance coverage that covers care for COVID-19 before entering Israel. We have already seen this requirement at the airport check-in, so please be sure that you have ample coverage. 
Some medical insurance policies may suffice, but you will need to speak with your insurance provider to confirm this. If you have purchased a Select International Tours Travel Protection Plan with Travel Insured International, your plan is sufficient to meet this requirement. Please remember that it is your responsibility to meet the entry requirements of foreign nations.
At this time, only Israel is requiring medical insurance. However, protecting yourself and your travel investment is an important decision. Please consider purchasing a travel protection policy that covers your trip and your medical care, should you need it, while traveling.
Airlines
Thankfully the delays, cancellations, and lost baggage that plagued international travelers in early 2022 have largely subsided. However, there have been some challenges with domestic airlines. As always, be aware of your flight times, check in 24 hours prior to boarding, and be at the airport with plenty of time (3 hours ahead for International flights) in case there are any last-minute changes. 
Air routes are changing. Delta is reopening the Atlanta to Tel Aviv flights this Spring while others, like American Airlines, are discontinuing direct service to Tel Aviv from Miami. So, if you have traveled to the Holy Land previously, your gateway airport may be different.
If you are considering an upgrade for your group flight seat, please be aware that Premium Economy and Business Class upgrades are significantly more expensive than in the past. Prices vary greatly based on schedule and airline, but you can expect prices to be 30-50% higher than they were in 2020.
You May Notice Some Changes
Bus Parking in the Holy Land
If you have traveled previously to the Holy Land, you may notice some changes this time around. Construction at Ben Gurion airport has changed the group bus parking to a more remote lot that requires some additional walking. As always, be sure that you pack light enough to manage your own luggage between the luggage claim and the bus or between the bus and the hotel. For tips on lightening your luggage, please see our Two Minute Tips.
New Reservation System
You may notice a major upgrade in our online reservation system. We have been working hard on building a new system that allows you more control over your reservation and allows your Account Manager to seamlessly communicate with you through the process. Many 2023 trips are already using this system. If you haven't booked your 2023 or 2024 trip yet, please register online.
Answers to Your Questions
In an effort to help you stay informed and feel at ease traveling, we have begun to address the questions we are most commonly asked with our Two Minute Tips. If you are on Facebook, you will see these on our Facebook Page (click here) every Tuesday. If you're not on Facebook or would like to explore the 50+ two-minute videos we have already created, please visit the Two Minute Tips section on our website.
We have also added information specific to your destination in our Know Before You Go section. You can find it on our website under the "Important Information" tab. This section of the website will tell you all about electricity, currency, restrooms, and more. 
If you have specific questions regarding your trip, which are not addressed elsewhere, the best way to get a timely answer is to email your Travel Account Manager. This would be the person on the brochure or who you have already been in contact with. Our Travel Account Managers work hard to answer every email; most are answered or addressed within 24 – 48 hours.
You may call our office at any time. Still, please understand that our Account Managers are answering hundreds of emails and dozens of calls daily, working with airlines and ground staff, and arranging all the details of your trip, so their time is limited, and they may need to return your call. Additionally, if you want to change flights or upgrade air, add a special request, etc., we will need your request in writing anyway. Often an email is the shortest path to the answer you're looking for.