In the summer of 2022, I went on a pilgrimage with Select International Tours to the Holy Lands. It was a trip of a lifetime with countless blessings and a birthday present that changed the trajectory of my life. My 26th birthday happened to fall on the day that we were visiting Bethlehem. After descending into the grotto of the nativity, I kissed the star that symbolized the place where Jesus was born, and I heard God say, "Happy Birthday, Elizabeth, welcome home." It was one of those moments I couldn't brush off as something that was just in my head. So I said, "Make a way". That night, we had a representative from Select to Give Foundation speak with us about how we could help support the Christians in the Holy Lands. One of the organizations the foundation supports is a home called Hogar Ninos Dios: Home of the God Child. With my nursing background and experience with children and adults with disabilities, I knew this was the perfect fit.
The path was rough with obstacles, but with my resilience (and pestering) the calling became a reality. Select to Give made it all possible and flew me back to Bethlehem in December of 2022. I spent December until April volunteering in Hogar Ninos Dios, and everyone there, including nuns, children, international volunteers, and employees, became family. The nuns of the order Servidores de la Verbo Incarnato chose the name Hogar Ninos Dios because in each of the 35 special needs children (and adults) that they serve are faces of the child Jesus.  The children are either abandoned, or their families do not have the resources to take care of them. Over here, families are trying to put food on their table and don't have the time or money to give these children what they need. They give them to the sisters with the hope of a better life. The sisters provide not only a home for the children but also a school on-site and medical care. They rely on providence to provide everything.  They have generous international donors and volunteer groups, as well as locals who do what they can to help. Select to Give Foundation is one that continuously provides for the home. In March, they even sponsored my mother's volunteer trip here. She is a special education teacher and was able to bring sensory tools and communication devices for the children. She was also able to work alongside the teachers in the school to exchange ideas.
Through the months of volunteering, I fell in love with my little Bethlehem family. I came to help them, but I know that God put them in my life to help me. As I neared my "end" date, I knew that He had more in store for me here. I went back to the United States and procured a Volunteer Visa that was valid for one year. In late August, I was finally able to come home. My time back started off typical Hogar style with a party and greetings from everyone. I got to experience some beautiful highs like walking with one of our children for the first time (17 years in a chair!!), being surprised by literally running into a friend at church, and spending an hour in the Grotto of the Nativity after hours with only 4 other volunteers. I did not know it then, but God was preparing me for what was to come because a little over a month after I got here, war broke out.
War broke out on October 7th, and despite countless people trying to talk me into going home, I never wavered in my decision to stay. God called me here at this time for a reason. His timing is always perfect. After my family realized I was unwavering, some suggested I would be useful on the front lines, helping as a nurse. This was a thought I was having myself, and I felt guilty for not doing more in this time of war because I have the skills. God reminded me that there were many times when He shut the door to nursing missions, but He opened the door to this home. He called me to be steadfast in love like a mother. If I just look at my body, it reveals my purpose.  I get to be the arms that the children find safety and love in. I get to speak comforting words or shower them with kisses. I get to walk with them through this time of uncertainty. Even though we are not in the war zone, that could change in a moment, and I need to be here for them. It is beautiful that even though they are not children of my flesh and blood, I get to love them like my own. I am not afraid of losing my own life, but the thought of one of our helpless children getting harmed because there were not enough hands to help scares me more than anything.
After a few tense days, life in Bethlehem went back into a new normal. We are all on our toes in case we need to bring the children to a safe place, but life must go on.  At home, our children still go to school in the mornings. In the afternoon, we play, or I stretch and exercise the children. One girl had an operation at the end of August and still needs intense physical therapy multiple times a day to maximize the benefits of this surgery. I know she is one of the many reasons why God called me back.
The biggest changes since the beginning of the war that I see are not in our house but outside our walls. The streets, once teeming with tourists, have gone quiet, and the Basilica of the Nativity is empty in the afternoons. The people of Bethlehem rely on tourism, and now there is none. The locals who work in Israel cannot cross the border to go to work and, therefore, do not have the money to spend locally. The people here were finally getting back on their feet after the detrimental effects of COVID, and now this happened. I find consolation in the strength of the faith of the people, especially the Christians. This is the place where Jesus physically entered the world, and they will keep practicing the faith despite all the hardships they face.
Through this experience, I've learned to appreciate what we have at home in the United States. There, we have the security of power, food, water, and even life. Right now, none of that is guaranteed here. I do have a beautiful love here, and it is a love worth giving up everything for.
I do not know what my future holds, but I know that He holds my future. With that being said, I do have something to ask of you; first and foremost, we need prayers for peace and safety. Prayers are the only thing that can change the hearts of the people and end this war. I would also like to ask for providence. The Select to Give Foundation supports not only us but many Christians in Bethlehem. If you are able to donate, the American dollar goes a long way and will help provide for the basic needs of the people.  Finally, please hug your family for me tonight because some of us over here do not have that luxury. Many in Gaza have lost parents or children in the war and will never be able to do so again. As for those of us who are safe, distance separates us from the ones we love. I thank you for your prayers and continuous generosity, and continue to pray for you as you do for us.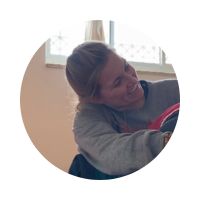 About the Author: Elizabeth Wellendorf
Elizabeth is a traveling nurse turned volunteer who works with Children at Hogar Nino Dios in Bethlehem.