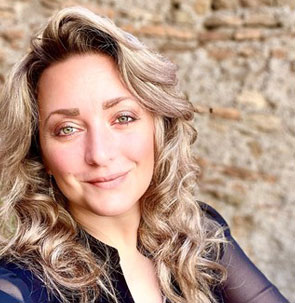 Join Bree Dail on Pilgrimage
Bree A Dail is the Rome Correspondent for The Daily Wire.
She has contributed to National Catholic Register, Newsmax, The Epoch Times, Catholic News Agency, AP, The Navy Times, The Daily Caller, The Catholic Herald, Catholic World Report, Relevant Radio, The Catholic Current with Fr. Robert Mcteigue, Guadalupe Radio, LifeSite News, OnePeterFive, along with appearances on various media outlets.
From 2018-2020, Ms Dail was the International Coordinator for the Holy League of Nations, which coordinated the Rosary Coast to Coast events with over 52 countries.
Ms. Dail holds a Bachelor's Degree in History from Christendom College and a Master's Degree in International Relations and Diplomacy from Norwich University.
She resides in Rome, Italy.
Our Spiritual Director: Fr. Lawrence Carney
Father Lawrence Carney was ordained for the Diocese of Wichita in 2007. In 2014, he was appointed as chaplain of the Benedictines of Mary, Queen of Apostles and he walks the streets of US cities in cassock carrying a crucifix and a rosary in each hand in an effort to bring souls to the Catholic Church. In 2017, he began the League of St. Martin, a pious association of the faithful that prays for reverence, reparation, and reversion—the chief goals being enrollment in the Archconfraternity of the Holy Face and the Confraternity of the Holy Rosary.  In 2022 continuing as chaplain of the Nuns and director of the League, he was appointed Missionary Priest of Wichita, Kansas.