Join Fr. Agustin Martinez on Pilgrimage
Fr. Agustin is originally from Aguascalientes, Mexico. He attended Conception Seminary College where he earned his bachelors in Philosophy and arts in 2012.
Fr. Agustin was sent to Rome for his theological studies at the Pontifical Gregorian University. While in Rome, Fr. Agustin worked in the Vatican for the office of archeological excavations (SCAVI), leading more than 400 groups of pilgrims through the archeological site that contains the tomb of the Apostle Peter, underneath
St. Peter's basilica. Fr. Agustin obtained a Masters in Augustinian Studies and Spirituality from the Patristicum Institute in Rome (AUGUSTINIANUM) and began his studies towards his licenciate in Canon Law. Fr. Agustin spent one summer working with the legionaries of Christ in Jerusalem (Notre Dame), where he led countless pilgrims through the holy sites of Israel, focusing on the old city of Jerusalem where the Holy Sepulcher, upper room and Temple mount are located. Ordained at St. Peter's basilica as a Deacon on October 1st, 2015, Fr. Agustin came back to the Archdiocese of Kansas City where he was ordained a priest on May 28th, 2016. Fr. Agustin has served as the associate pastor at Prince of Peace, followed by becoming the chaplain at Bishop Ward High school, associate pastor at St. Patrick in KCK and since July 2019, the associate pastor at St. Paul in Olathe. Fr. Agustin has led many pilgrimages to Rome, Mexico City and the Holy Land as a way to help his parishioners come closer to the richness of our faith and grow spiritually.
Upcoming Pilgrimage Trips
Additional Spiritual Leaders on This Trip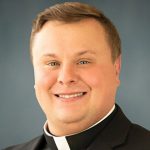 Fr. Andrew Gaffney is currently the Parochial Vicar at Prince of Peace in Olathe, Kansas. He grew up near Topeka, Kansas. He was ordained a priest in May of 2022. Although he has not been ordained very long nor visited the Holy Land, he is very excited to assist Fr. Augustine in this adventure. His hobbies include working on cars, especially classic cars, and taking long drives through scenic areas of Kansas.
Fr. Thomas Maddock grew up as a "cradle-catholic" at Holy Spirit Parish in Overland Park. He is the oldest of five children and attended St. James Academy, where God began to grow a desire for holiness within him and a love for Him and His Church. Fr. Thomas attended Conception Seminary College and St. John Vianney Theological Seminary in Colorado, being ordained a priest in May of 2021. He now serves as Parochial Vicar of Christ the King Parish in Topeka and Chaplain of Hayden Catholic High School.