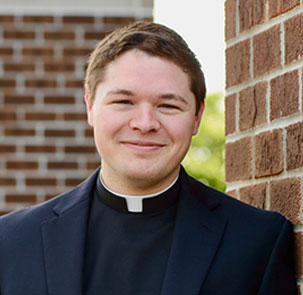 Join Fr. Matthew Brody on Pilgrimage
Fr. Brody is a native of Lansdale, PA from Mary, Mother of the Redeemer Parish. He graduated from North Penn High School in 2009 and entered St. Charles Borromeo Seminary that August. Fr. Matt spent eight happy years at St. Charles, earning a Bachelor of Arts in Philosophy (2013) as well as a Master of Divinity (2016) and Master of Arts in Theology (2017). Father was ordained on May 20, 2017 at the Cathedral Basilica of Ss. Peter and Paul (Philadelphia) by Archbishop Charles J. Chaput.
Fr. Matt served as a transitional deacon at Holy Innocents Parish (Philadelphia) from 2016-2017. He was assigned to Ss. Peter and Paul Parish (West Chester) as a parochial vicar from 2017 2020 and then to Our Lady of Mount Carmel Parish (Doylestown) as a parochial vicar from 2020- 2022. He currently serves as the Parochial Administrator of St. Richard Parish in South Philadelphia.
In addition to his ministerial experience, Fr. Brody is a classically trained musician, playing the violin, piano, and organ. He also enjoys cooking and trying new cuisines. Travel has always been an important part of Father's life and he enjoys sharing that experience with parishioners and friends. He believes that exploring the world can help us see God's presence in our daily lives as we gain new perspectives of culture, tradition, and history.
Click on the image below to register today.