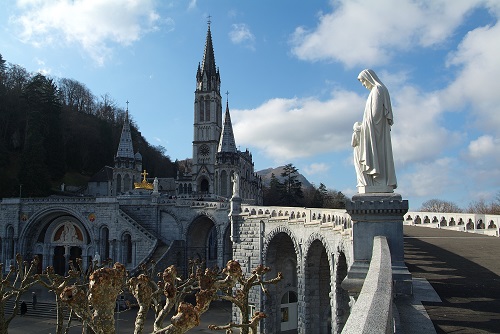 France is known as, "the eldest daughter of the church," and has been in unbroken communion with the Bishop of Rome since the second century. The longevity of France's faith has left the country with deep Christian roots and art and architecture that share the Gospel. France was also home to many Saints of the church, including St. Joan of Arc, St. Genevieve, St. Bernadette Soubirous, St. Therese of Lisieux, St. Denis, St. Louis IX, St. Frances Xavier, and St. Vincent de Paul just to name a few. Basilicas and Cathedrals are plentiful and Marian sites like Lourdes offer pilgrims a plethora of spiritual destinations.
Read More About Traveling to France
What Should I Know Before I Go to France?
Communications
When wifi is available, smartphones can be extremely useful for pulling up maps, using skype to make long-distance calls, checking museum schedules or finding a nearby restaurant quickly, among other things. The majority of France: Homestyle's apartments in Paris are now equipped with wifi.
See this article on how to use public wifi in Paris.
Be aware that international data roaming is prohibitively expensive and you should be very careful about using your device to make calls or browse the internet. The safest way to go is to switch off data roaming and put your phone in airplane mode as soon as you leave the US.
Switching to an international plan will lower your per-minute charges, but they may still be pricey. Contact your provider before you leave to inquire about their specific packages and verify that your phone is unlocked, equipped with GSM, and "tri-band", or compatible with European bandwidth. Then you can switch out the SIM card for a local European SIM card that will allow you to make calls at local rates. Just remember that friends and family who call you will be paying higher international rates.
Offline apps such as this Paris guide and this Metro navigator are effective tools and you won't run the risk of overspending.
Buy One There

Basic cell phones are inexpensive (around €30) in France. You may purchase a SIM card locally at a newsstand, mobile phone store, or large stores with electronics departments such as FNAC and Darty.
Remember to check your remaining credit balance regularly!
Electricity
In France the standard voltage is 230 V and the frequency is 50 Hz. You can use your electric appliances in France, if the standard voltage in your country is in between 220 – 240 V (as is in the UK, Europe, Australia and most of Asia and Africa). Manufacturers take these small deviations into account. If the standard voltage in your country is in the range of 100 V – 127 V (as is in the US, Canada and most South American countries), you need a voltage converter in France. You can find voltage converters at Amazon. You can also consider a combined power plug adapter/voltage converter.
Money
The Euro began circulation on January 1, 2002. Of the twenty-eight European Union member countries, eighteen have adopted the Euro: Austria, Belgium, Cyprus, Estonia, Finland, France, Germany, Greece, Ireland,  Italy, Luxembourg, Malta, The Netherlands, Portugal, Slovenia, Slovakia, Spain and Latvia.
Credit/Debit Cards
Most businesses in France accept credit and debit cards as payment. Generally speaking, the best way to go is to withdraw cash from an ATM machine ("un distributeur"), located outside of most banks and post offices. The majority of them will have instructions in English as well as French.  Debit cards will incur fewer fees than credit cards, so try not to rely solely on a credit card for your cash needs. Be sure to remember your PIN number! This method of withdrawing funds is far more convenient and less expensive than cashing travelers' checks.
Before your departure, be sure to notify your bank as well as your credit card company in order to prevent a hold being placed on your card when foreign transactions appear, and to find out what kind of overseas fees they charge. Most likely there will be a 1-3% withdrawal fee per transaction, so you might consider withdrawing larger amounts less frequently and keeping the funds stashed at your apartment or well concealed in a small money belt under your clothing.
Some companies offer lower international fees than others — and some don't charge any at all. If you're going on a long trip, do some research and consider taking out a card just for international purchases. Capital One has a particularly good reputation for no-fee international transactions on both its credit cards and its debit cards linked to a checking account.
If possible, consider bringing more than one major bank card, from different banks, because sometimes an approval for a purchase by credit card will be inexplicably denied, while a credit card from another bank is accepted for the same transaction. Also, different credit card companies charge different fees. Online banking will help you be able to keep track of the fees being charged to you, as well as the exchange rate you're getting.
French credit cards use a microchip. To make a purchase with a chip-and-PIN card, the cardholder inserts the card into a slot in the payment machine, then enters a PIN (like using a debit card in the US) while the card stays in the slot. The chip inside the card authorizes the transaction; the cardholder doesn't sign a receipt.
American-style cards have been rejected by some automated payment machines in France. This is especially common with machines at train and subway stations, toll roads, parking garages, luggage lockers, bike-rental kiosks, and self-serve gas pumps. For example, after a long flight into Charles de Gaulle Airport, you find you can't use your credit card at the ticket machine for the train into Paris. Or, while
driving on a Sunday afternoon, you discover that the automated gas station only accepts chip and PIN cards.
In most of these situations, a cashier is nearby who can process your magnetic-stripe card manually by swiping it and having you sign the receipt the old-fashioned way. Many payment machines take cash; remember you can always use an ATM to withdraw cash with your magnetic-stripe debit card.
Most restaurants and shops that serve Americans will gladly accept your US credit card. During the transaction, if the merchant refuses your card or seems to have trouble, ask them to swipe your card, or point out the magnetic stripe and indicate that you will have to sign for the charge. "Avec cette carte, je dois signer". Or: "C'est une carte étrangère, il faut une signature".
It is always a good idea to have some cash in the local currency. For the best rates, wait till you can withdraw cash from the local distributeur rather than at foreign exchange kiosks at travel locations.
Passports and Visas
PASSPORTS AND VISAS All U.S. and Canadian citizens, including infants, need a valid passport to enter France. Visas are not required for American and Canadian visitors staying in France for up to 90 days.
Restrooms
Restrooms are available in most restaurants. There are public restrooms available in many cities, but they may require a fee for their use. As always, it is a good idea to carry hand sanitizer and a few Euro coins to pay for restroom use.
Tipping
There are no hard-and-fast rules for tipping in Europe. In most restaurants, the wait staff is paid better than in the US, so tipping is not always necessary and certainly not as extravagant. Tipping is optional if you see a "Service Charge" on your bill. If you do not see one, it is customary to leave 5-10%.