Ireland, Scotland, and England Pilgrimage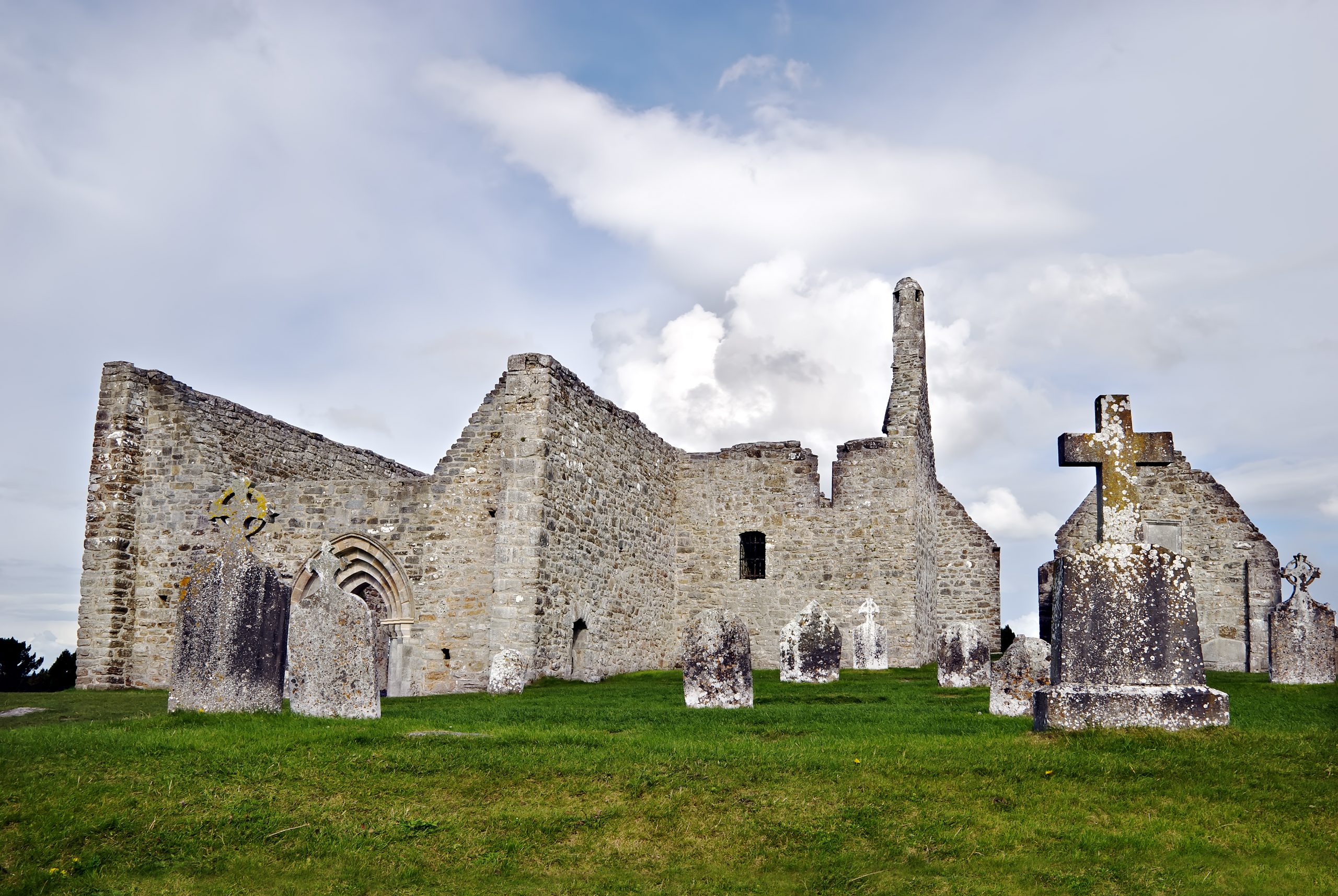 Ireland has had a significant impact on the Catholic Faith. In fact, much of our Catholic identity was preserved in the monasteries of Ireland through the middle ages. It is a beautiful country filled with beautiful people and many Catholic shrines. Although there was an economic boom in the past few years (with its accompanying loss of spirituality), it has always been a country steeped in Catholic tradition.
2023 Ireland, England, and Scotland Pilgrimage Trips
2024 Ireland, England, and Scotland Pilgrimage Trips
Read More About Traveling to Ireland, England, and Scotland
What Should I Know Before I Go to Ireland, England, or Scotland?
Communications
Most phone numbers in the U.K. now follow the format — 01 plus 8 or 9 digits, which is easy enough to dial if you are already in the country. However, if you have to call from the U.S., first dial the international dialing code (011) and country code (44), omit the lead zero, then dial the rest of the number. For example, if the phone number is 0131 555 5555 and you are not in the U.K., this is how you dial: 011 44 131 555 5555. A phone number beginning with 07 is probably a mobile phone (cell phone) and cannot be called from the U.S. Most public telephones accept coins (10p, 20p, 50p, £1), with a minimum connection charge 20p. An increasing number of kiosks also accept credit cards and offer e-mail and Internet access.
Ireland
The international dialing code for Ireland is 353 and for Northern Ireland is 44.
When dialing an Irish number from abroad, drop the preceding 0 from the local area code e.g. Within Ireland, our telephone number is 01 – 293 3000. From outside Ireland our number is +353 – 1 – 293 3000.
Electricity
The electrical current in Ireland, England, and Scotland is 220 volts, 50 cycles alternating current (AC). Wall sockets take plugs with 3 flat-pins. To use American appliances both a converter and an adapter are required except for dual voltage appliances, which need only an adapter, for example, laptop computers and most cell phone chargers.
Money
Ireland
As part of the European Monetary System, the basic unit of currency in Republic of Ireland is the Euro (€), while Northern Ireland remains on its existing currency system of Pounds Sterling (£).
Foreign exchange bureaus are available throughout the country in banks, tourist information offices, and airports. Visa, MasterCard or American Express credit cards will be widely accepted in Ireland. Visitors with other cards should ask in advance if they will be accepted.
England
Unlike the rest of Europe, the UK uses the Great British Pound. They accept euros at some shops, but you get your change in pounds. You will get money out of an ATM in pounds, and you will often be charged a foreign transaction fee of about three percent by your bank, whether you get cash out or use a credit card. This dirty little secret can add up, so make sure you budget for it. Note that some credit cards have no foreign transaction fees.
If you want your debit/credit cards to work in England or any foreign country, call your bank before you leave! Many times, we have had tour guests calling back to their home country because their transactions were declined. It's a fraud concern for the banks, so they are all pretty careful.
Everywhere will take your credit card, but in England, they also have a special protection called "chip and pin" which we really don't use in the States — a transaction can be refused if you don't have an embedded chip on the card as well as your pin code entered. In that case, you may have to use a credit card, so I would keep at least two on hand as well as checking with your bank in advance. As a safety precaution, many restaurants bring a machine to your table so your card is never out of your sight.
Scotland
The British currency is pound sterling (£) and is made up of 100 pence (p). Several Scottish banks issue their own notes in denominations of £5, £10, £20, £50 & £100 which are technically legal tender throughout Great Britain.
Most hotels, restaurants, and shops in Scotland accept major credit cards such as VISA, Mastercard, American Express, Diners Club, and JCB. However, you should be aware that small B&Bs frequently do not take credit cards.
Passports and Visas
Ireland
Passports are not required by British citizens born in the United Kingdom and traveling from Britain, however photo identification is commonly required and should be carried. Citizens of European Union states and Switzerland may use a passport or national identity card to gain entry to the Republic of Ireland.
All other nationalities must produce a passport to gain entry to the Republic of Ireland.
England
Citizens of most nations, including the United States, receive a visa waiver upon arrival in Britain. You do not usually need any documents other than your passport, but you will have to complete an application form and provide personal information to customs officials. This includes the address of the place where you will be staying while in the United Kingdom. Be prepared to answer questions about your travel plans, your employment and your ability to fund your trip. There is a small chance that you will have to prove your ability to fund your visit, for example, by showing customs officials a bank statement. If you are a citizen of a nation that is not a part of the visa waiver program or if you are visiting for any reason other than tourism, you must already have an appropriate visa when you arrive. You can only apply for visas from outside the U.K.
Scotland
U.S. citizens will need a passport which is valid for six months after returning to the United States. U.S. citizens do not need a visa to enter the United Kingdom–including Scotland–unless they plan to stay longer than six months.
Restrooms
Public restrooms are plentiful in Italy and similar in facilities and cleanliness to those in the United States. At gas stations and some parks, toilet paper is sometimes in short supply, so you might want to carry some with you. As always, it is a good idea to carry hand sanitizer. Occasionally you may be asked to pay for the use of restrooms. Keeping a few Euro coins on-hand for such occurrences is a good idea.
Tipping
Ireland
Hotels and restaurants may add a service charge of between 10%-15% to the bill in lieu of a tip and generally is clearly displayed. If in doubt, ask whether service is included.
Tipping in pubs is generally not expected, with exceptions for table service; taxi fares are usually rounded up, incorporating a small tip.
England
Tipping is less ubiquitous in London than it is in America, but is more customary than it is in many other places, and there are some important rules to bear in mind. Taxi drivers should be tipped by rounding up the fare slightly. In restaurants, 10% is a standard tip, and increasingly 12.5% is added on automatically as a service charge; it is not necessary to tip in addition to this. Tips are not expected in pubs but are appreciated when ordering food – just add 10% or so to the bill.
Scotland
There are no hard and fast rules for tipping in Scotland. If you are happy with the service, a 10-15% tip is customary, particularly in a restaurant or cafe with table service. Tipping in bars is not expected. For taxi fares, it is usual to round up to the nearest pound.
Climate
Ireland, England, and Scotland's climate is influenced heavily by the Atlantic Ocean, resulting in mild winters with temperatures in the coldest months, January and February, rarely falling below freezing. The sunniest months are May and June with up to 18 hours of daylight. In the warmest months; July and August, temperatures can sometimes reach 25 C (78 F).
Weather can alter dramatically from day to day; it can change from fair to showery and back again to fair in a matter of minutes. June is typically the driest month and the winter months of December and January the wettest.
Further details and on-line weather updates are available at www.met.ie