Organize a Pilgrimage with Select International Tours and Cruises
We Invite You to organize a Pilgrimage
Select International Tours and Cruises was established in 1987 to help you organize group travel. You can be confident in choosing Select because you will be getting expert advice, carefully planned trips, and complete support from a company with over 30 years of hard-earned expertise.
We have specialized in faith-based travel since our beginning. And we are excited to help you organize a focused and prayerful pilgrimage!
And a most special thank you to Edita Krunic at Select International Tours for taking a chance with me and making my calling a reality.
What does it mean to organize a parish or private group pilgrimage with Select International Tours?
If you have at least ten family members and friends who want to travel together, you have a group! As the Group Leader, you will receive travel benefits as compensation for your work in putting the group together, promoting the trip, and providing leadership during the pilgrimage. And we will pair you with a private experienced Tour Manager so you'll have help every step of the way.
Ask us to review ALL your benefits.
Select International Tours and Cruises is known for quality, fair pricing, and innovative, customized trips. Your group is unique, and your tour should be too. We listen to your needs and create a trip specifically for your group. Your trip will never come from a catalog.
Let us know your dream destination and the dates you want to travel, also from which airport you would like to depart. We will put your wish list of sights and experiences together to offer your group a truly unique and comprehensive pilgrimage. If you want to see what other groups have chosen, please browse our many suggested and scheduled itineraries for ideas.
Not sure what you're looking for? We're here to help! Talk to us about your group, and we will be able to suggest some excellent ideas and itineraries for your consideration.
Do you want to combine a trip with a major religious event? We can do that. Our experience, excellent reputation, and extensive network enable us to offer you the best accommodations, guides, and transportation—where others will often compromise.
Thanks for your devoted work on behalf of all of us! I would call your attitude "fierce" — you really fight for all of us.  I have had the opportunity to step back and to reflect on how much you and everyone at Select do and how much I appreciate it.  Edita has a great product, but an even more awesome team!
We Want to Make Your Life Easy!
You pick the place, you choose the dates, the sights, the experiences, and we will take care of the details. When you choose Select International Tours and Cruises, you won't have to worry about language and cultural barriers, hotels, meals, guides, Mass venues, flights, insurance, or marketing materials. We will handle that so that you can focus on your people.
We are always on hand to ensure the process is as simple and seamless as possible. We provide you comprehensive support, respond to all the questions, prepare the marketing materials, take and process the reservations, handle the accounting, invoicing and payments, issue all the travel documents and hold your hand during the entire process.
Rest assured that our team of experienced professionals supports you through every element of your trip. We want you and your group to have the best possible experience.
I believed you when you said Select was great. But I didn't know just how great Select was until I got on one of your trips!
What Does the Planning Process Look Like
We recommend that you allow at least ten to fifteen months for the planning of your pilgrimage. Many destinations, such as the Holy Land, require flights and hotels to be reserved months in advance.
Once you have chosen a destination and agreed to a customized itinerary, Select International Tours and Cruises will produce bookings forms and posters, which you can use to promote your pilgrimage successfully. We can also advertise it online and in certain publications.
Your dedicated Account Manager (click here to meet them) at Select International Tours and Cruises will be able to provide as much or as little support as you require. Whether you want to know how many people have booked, want to know how to answer a question, or even if you're considering a change in the itinerary, your Account Manager is never more than a phone call away.
Each Account Manager has dedicated Support Staff, so you never have to worry about receiving service when you need it. This is your team, and they are here to support you until your trip returns home.
I am so thankful to Select International Tours for facilitating such a beautiful, profound, and life-changing experience. I will say this, a tour is made by its staff and we were so well taken care of.
What Are My Responsibilities?
As a pilgrimage Group Leader, you have three primary responsibilities
Book and Plan the Trip
We will work together to plan the perfect trip for your group, destination, and price-point. Together, we will make sure that you have a trip worth promoting. As you promote and while we organize the details, we ask that you stay engaged with our team and your pilgrims.
Fill Your Trip
Filling a trip requires active promotion. You will need to talk about your trip. You will need to post about it in the Church bulletin, on the church website, social media, and anywhere else it might be seen. You will need to host information meetings. Then you need to engage people and guide them to sign up. If you've never done that before, you've come to the right company! We have a vast library of resources for registered Group Leaders and an in-house Marketing Team to help you succeed!
Shepherd Your Pilgrims While Traveling
Personal relationships build strong pilgrimage ministries. You have found your pilgrims and brought them along with you. Now, you have a chance to help them develop a lifetime love of faith and travel!
While you are on pilgrimage, your patience, positivity, and punctuality set the tone for your pilgrims. Your grace and gratitude are contagious. Your pilgrims follow your lead.
Your guides will help you succeed by leading and advising you daily, but they need your engagement, decisions, and positivity to get the most out of your days.
What Select Does For You
Select handles all the logistics, so you can focus on your pilgrims.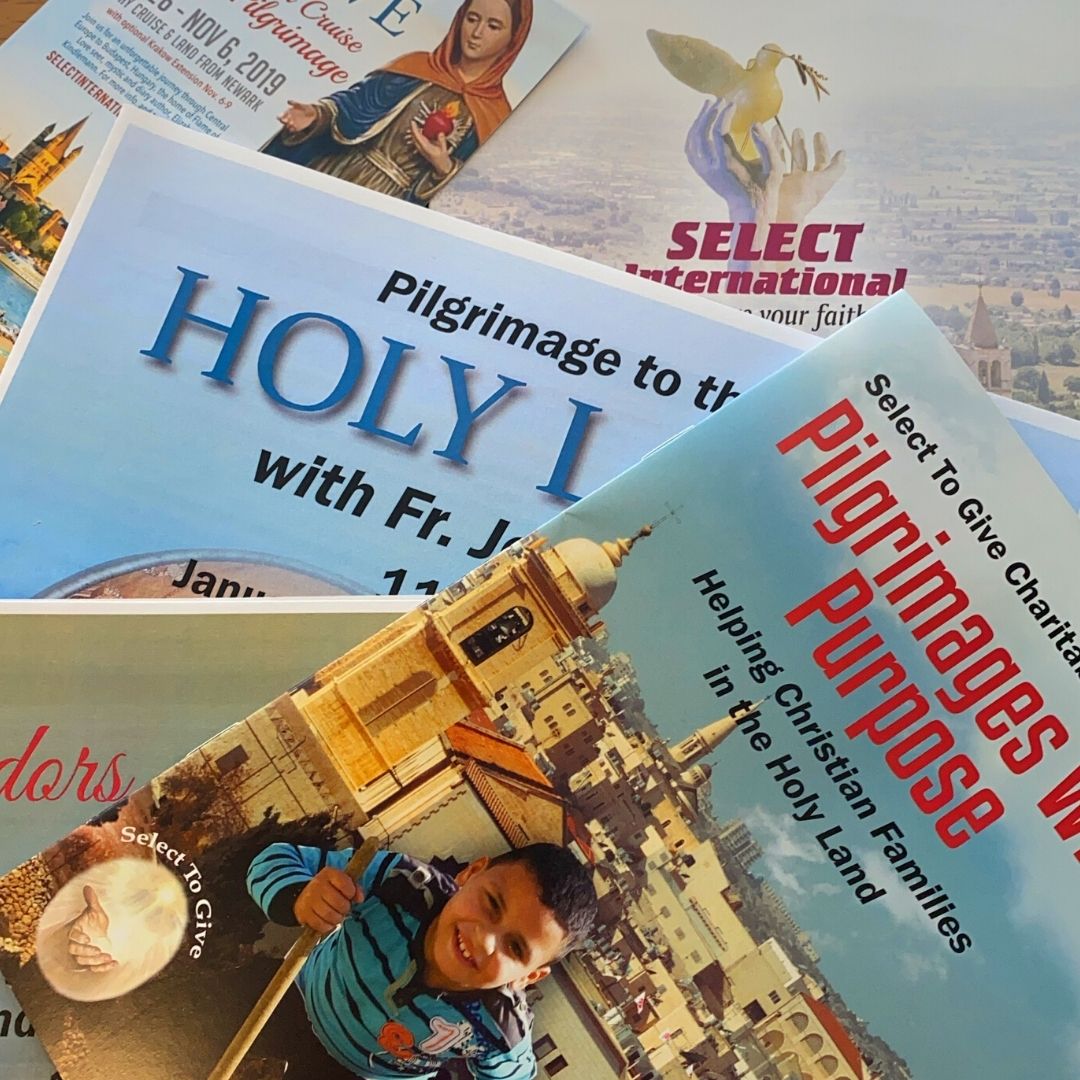 We Provide Marketing Assets
Our in-house marketing team will create brochures or postcards for you, a landing page for your pilgrims, and be on-call for advice as you promote.
We Handle Registration and Payments
Send your pilgrims our way. We'll handle all their documents, payments, tickets, boarding passes, and every logistical aspect of the trip.
We Secure the Best Christian Guides
We only use local English speaking Christian guides. They will handle all the details on the ground so you can spend your time enjoying and engaging your pilgrims.
We Customize to Your Exact Needs
We've arranged weddings in Cana, celebrations in Tuscany, and even Masses in Saint Peter's Basilica. We can help achieve your vision of the perfect pilgrimage.
Grant Access to Vast Resources
When you have a trip booked with Select, you have access to the Select Partner Portal–an ever-growing library of resources to help you plan, promote, and maximize your trip.
Plan and Organize Your Trip
We will work with you to build the perfect itinerary; complete with excellent hotels, dining, and transportation. We will secure the group airfare, ground transportation, guides, and all reservations.
Create Marketing Materials
Our in-house marketing team will create a full-color brochure or postcard to help you promote your event. We will also build a registration page on our website for your trip. During your promotion, we are available via phone or email to advise you as you market your trip.
Take Reservations and Payments
Your pilgrims will work directly with our staff to register and make payments. We will track their documents, special needs, and travel preferences, leaving you free to promote.
Mail Travel Documents
As your departure date approaches, we will mail all the travel documents directly to your pilgrims, saving you the hassle of managing a mountain of paperwork. But don't worry, we will keep you up-to-date often on who is traveling with you and any special needs that you need to be aware of.
24/7 Support While Traveling
Our guides can handle nearly any challenge that presents itself. Still, we will available 24/7 by phone should something important arise. Our goal is to make sure every moment of your trip goes as smoothly as possible.
Follow up
Upon your group's return, we will call you for a wrap-up conversation and provide all your pilgrims with feedback surveys. We take feedback seriously! We read every survey and follow up on many of them. Our goal is to make every trip better than the last.
Why Our Group Leaders Return
Our approval rating speaks to our commitment to being the leader in pilgrimage travel. 
Our clients return time-and-time-again, and many have been with Select International for years. We are happy to provide references from group leaders who know us well and have experienced our passion for the pilgrimage and compassion for the pilgrim first-hand.