Join Paul J. Kim on Pilgrimage
Paul J. Kim is one of the most sought-after Catholic speakers of his generation. His talks, music, and comedy have impacted people of all ages in 48 states and 16 countries over the past decade; leading his audiences to life-changing encounters with Christ. He's the author of "A Catholic Guide to Adulting" online course, he's released two music albums, and his videos on social media have accumulated millions of views. His background includes work as a marriage and family therapist and religious formation with the Franciscan Friars of the Renewal. In his free time he enjoys long walks on the beach, talking to strangers in random accents, and taco Tuesdays. He resides in the Austin, TX area with his beautiful wife & four children.
Upcoming Pilgrimage Trips
Meet Our Spiritual Director: Fr. Augustine Puchner, O. Praem.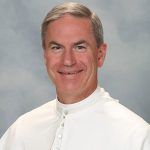 Fr. Augustine Puchner serves as the Pastor at St. John the Baptist in Costa Mesa, CA, a thriving parish located in the Diocese of Orange. He is a native of Milwaukee, Wisconsin, and entered Saint Michael's Abbey of Orange in 1991 as a Norbertine religious. He made his solemn vows in 1992 and was ordained a priest in 1997. His joy, kindness, sense of humor, and dedication to Christ and the Church are contagious and a gift to all those who meet him.