Join Rev. Doctor Sharon Lincoln on a Spiritual Journey
Apostle Sharon C. Lincoln is a native of Maryland and currently resides in York, Pennsylvania. She is the Overseer of The Well Worship Center, and Founder and Chief Operating Officer, of The Well Family Life Center. She holds a Doctor of Divinity degree from Newburgh Theology Seminary, and a B.S. in Business Administration and Accounting from Morgan State University (Cum Laude). Doctor Lincoln has a P.H.D. in Nouthetic Counseling and is a Board Certified Christian Counselor with the American Association of Christian Counselors.
The Well Family Life Center provides services to the community including counseling, training, education, and assistance where needed. The focus of the center is "to build healthy communities, one person at a time." Through "Sharon Lincoln Ministries", she provides instruction and resources for inner healing, deliverance, personal transformation, and moving in the prophetic gifts.
Click on trip to learn more
Upcoming Pilgrimage Trips
Pastor Julissa Candelaria is Joining Us on Pilgrimage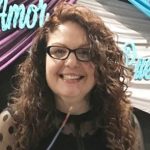 Pastor Julissa Candelaria is a passionate woman of God who finds her joy in seeing lives transformed by the power of God's word. She currently serves as the Director of Christian/Spiritual Education at The Well Worship Center where she is an Associate Pastor. Pastor Julissa has served the church in the areas of preaching, discipleship, teaching, worship, and missions. Born in Mayaguez, Puerto Rico, Pastor Julissa earned her Bachelor's degree and Master's Degrees in the Universidad Teologica "Vida Abundante" (Abundant Life Bible College) in Ponce, Puerto Rico an M. Bible Interpretation and Theology and B.A. in Christian Counseling. She has been a professor in The Bible Institute (I.P.C.A) in York, Pa for six years where she teaches the History of the Christian Church. She is the wife of Pastor Julio A. Perez, the mother of four children, and is a loving grandmother.