Troy and Kathleen Billings live on their five acre homestead in Greenville, South Carolina, with their five children, ages 8 to 26. They also have four children in Heaven. Troy is a multilingual (fluent in Italian) global corporate business executive and Kathleen is a nationally acclaimed Catholic speaker and author. Kathleen writes for Catholic Mom and WINE- Women in the New Evangelization.  She is a contributing author to the book, Amazing Grace for Mothers, (Ascension Press) and Called by Name – 365 Daily Devotions for Catholic Women, (Ave Maria Press.) Together Troy and Kathleen created from the ground up, and are the former co-director's of a vibrant, parish-based marriage ministry called BAM – Building Amazing Marriages, which they directed for ten years.  After moving to South Carolina from the Chicagoland area in 2020, they immediately began hosting a monthly family rosary and dinner at their home, which rapidly grew and now attracts between 250-300 people a month.  They also co-lead weekend marriage retreats called Simply Love and have a blog entitled "Two to Tango" in the For Your Marriage section of the USCCB Website.  Troy and Kathleen are the co-authors of the worldwide top selling Catholic book on marriage,  Simply Love: Catholic Marriage Day by Day published by Our Sunday Visitor and are frequent guest speakers nationwide. 
Connect with Troy and Kathleen Billings
Join the Billings on Pilgrimage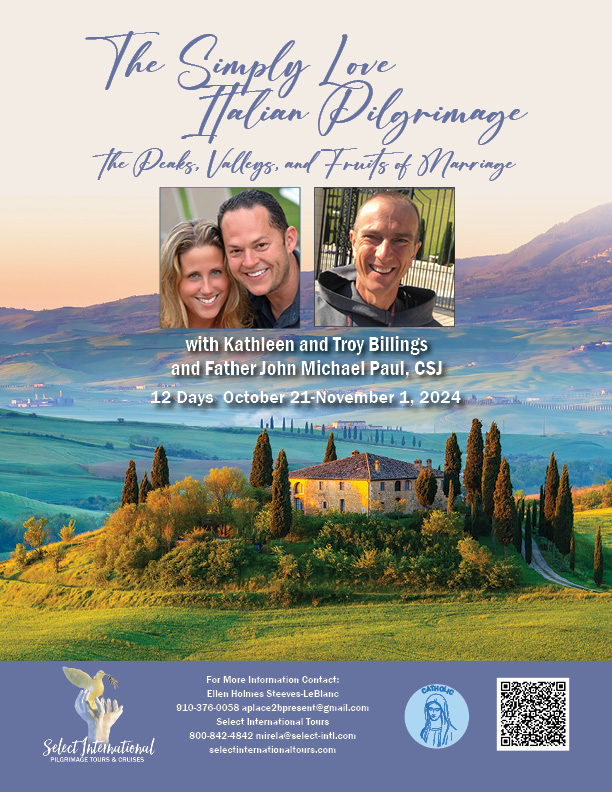 Our Spiritual Director: Fr. John Michael Paul
Father John Michael Paul hails from the 'Holy Land' of Michigan, born in the city of Saint Joseph. He graduated from Saint Mary's College of California with a split philosophy and French degree. After working for ten years as a primary and middle school teacher, researcher, and special attaché to the director of the Institute of Fresh Water Studies of the Siberian Branch of the Russian Academy of Sciences, he entered religious life in 1997 with the Congregation of the Brothers of Saint John. He earned a master's degree in Philosophy at the Sorbonne in 2003 and is fluent in French and Spanish.
Ordained a priest in Ars, France, in 2006, he has exercised the role of Prior for 17 years and regional superior and general prior's council member for 13 years for the regions of Southern France for three years and the Americas for 10 years. During his first 9 years of priesthood, he directed over 45 family sessions, each one with between 10-25 families in the priory in Corbara (Corsica), France. He particularly delights in family ministry and sees this as a real key to the evangelization of the country. He then spent 8 years as prior in Laredo, Texas, specializing in campus ministry with the Texas A and M International University.
He is now assigned to the priory in Mexico City at the French Parish Our Lord of the Resurrection and Our Lady of Lourdes and is working with businessmen and women who are adept on putting the social doctrine of the church into practice as well as all of the duties that come along with being associated with a parish. His heart has been in discovering the world, different cultures, and how much each culture basically has three common elements: the people want you to respect them, to love them, and to let them love you. With these three elements, it is possible to evangelize just about anywhere.