Take Your Faith to New Places
Click above to see how we got started.
The Pilgrimage Tour Company Catholic Leaders Trust
When you choose to travel with Select, you are choosing the pilgrimage company Catholic leaders choose for their own trips. You will experience why Select is the winner of the Innovation and Excellence Award (NTA).  You will be guided by the best Christian guides in the industry; guides who have been vetted through Select's 35 years of pilgrimage experience. By traveling with Select you will also be supporting the lives of Christians in the Holy Land.  Every time you travel with Select, a percentage of your registration fee is donated to Select to Give–an IRS recognized 501(c)(3) charitable organization, founded by Select International Tours in 2014. Learn more at www.selecttogive.org
What Your Peers are Saying
We wanted to say thank you for all your hard work organizing our pilgrimage. We had the experience of a lifetime. Everything worked out wonderfully. The flights were on time and went smoothly. The guides were very knowledgeable. 5 star experience and will be happy to refer others to Select International.
…and give you great value for your money…
We were Wowed by all of the places we were able to see. This Pilgrimage hit all of the places we wanted to see. Other Tours required two Pilgrimages to cover the visits we saw on this one Pilgrimage.
…while keeping sight of what a pilgrimage should be…
…you are visiting so many places of religious significance, it was amazing. This was one of the greatest experiences I have ever been on in my life.
…so you can focus on the experience, not the details…
Select removed all the thinking and planning for the trip which was great! It was nice not having to worry about the hotels and food. Also, our tour guides were amazing!! Select does a good job choosing Catholic tour guides. A lot of fun, and I would recommend again.
…and trust that Select will take care of you. No matter what.
Amy and I cannot thank you enough for your work to get us safely home.  [Other pilgrims (we met at checkpoints and the airports) were abandoned by their tour companies.]   We appreciate you and your colleagues at Select International and should we travel internationally in the future, we will be using Select International.  I have told countless friends and family members about you and your company.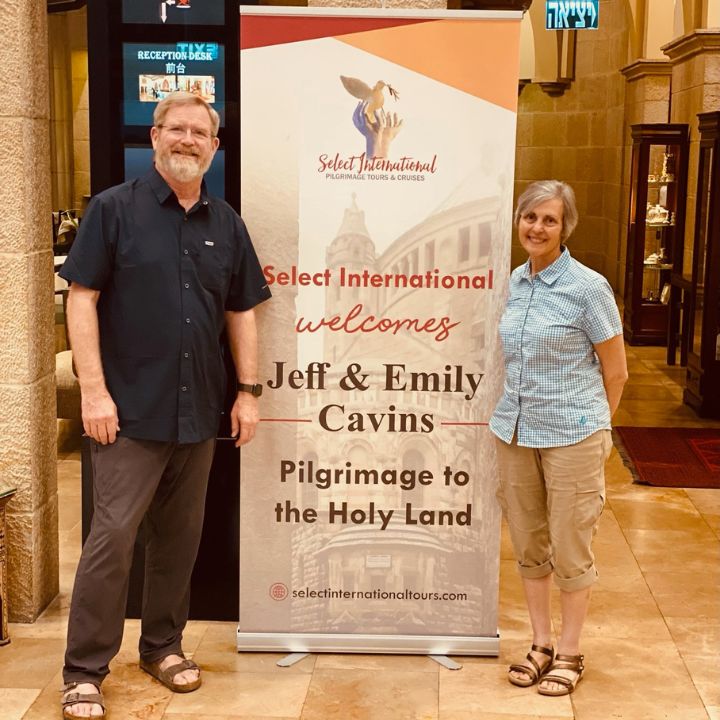 Centrally-located 4-Star Hotels
2,236 Groups
have organized their pilgrimage trips with Select International Tours and Cruises.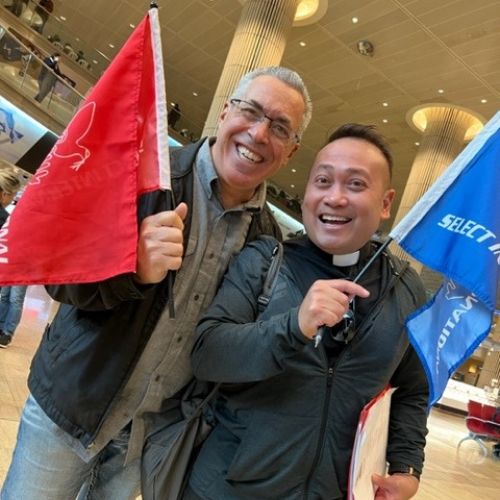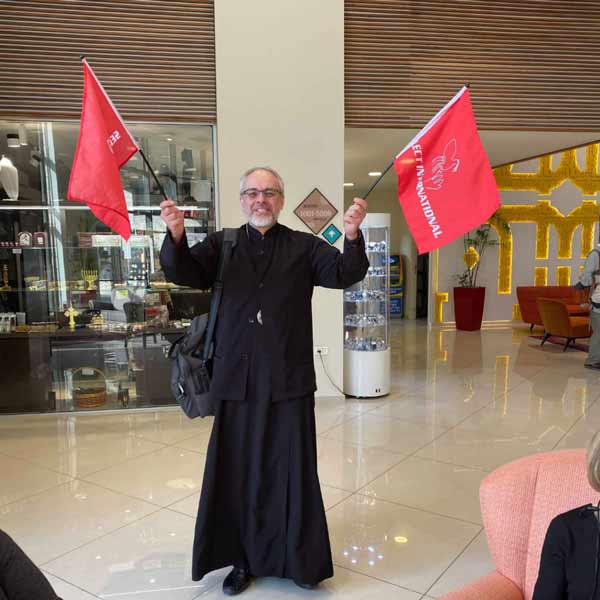 $860,534 Donated
directly to Christian families living in the Holy Land through our 501(c)(3) charity, Select to Give.
69,699 Pilgrims
have traveled with Select International Tours and Cruises.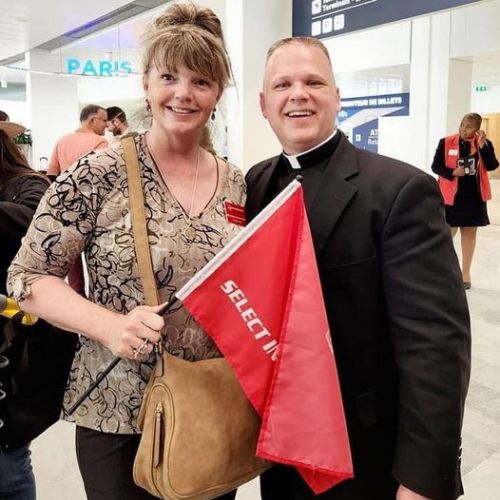 Featured Group Leaders
Leaders who appreciate service, dedication, and experience choose Select International Tours. If you are looking to build your pilgrimage ministry, call us today. +1-800-842-4842
Select Works With the Best Guides
Select International Tours only works with the best and most ethical guides in the business. We wouldn't trust your trip to anyone we don't trust.
I'm emailing to give a strong and heartfelt recommendation for our Holy Land guide, Hani. I also commend the bus driver, though I must admit I've forgotten his name. I recall that at some of the sights where Hani shared a short spiritual reflection/comment—and I happened to be scheduled to preach at Mass at that site—I thought that what he shared was as worthwhile and inspiring as anything I had preached or was planning to preach, depending on whose comments had come first.
Your Trip Supports Christians Living in the Holy Land
Select to Give was founded in 2014, by Select International Tours, Inc. as a not-for-profit 501 c (3) Foundation with the intent of helping Christians of the Holy Land stay in their homelands with the freedom to worship, be educated, and work in a safe and healthy environment. 
Learn More
Donate Now
Our Mission
The Holy Land (Jordan, Israel, and Palestine) is home to over 350,000 Christians, most of whom are descendants of Jesus' disciples and those whom the disciples converted. Sixty years ago, Christians accounted for about 18% of the population of the Holy Land; now they are only about 2%. There remain about 50,000 Christians in the Palestinian territories. The Select to Give Foundation exists to help the Christians of the Holy Land! Through the funding and creation of programs and partnerships, we support innovative community efforts to help Christians achieve a safer and more prosperous existence.
Your Trip Supports This Mission
Select International Tours donates a portion of every registration to Select to Give. 100% of the donations received by Select to Give directly support Christians living in the Holy Land through various programs. To learn more, please visit:
Learn more about Select to Give by watching this interview with Dominic from Smart Catholics.
Peace of Mind with Travel Protection Plans

Cancel for Any Reason Travel Protection Plans
Cancel for Any Reason coverage is not a stand-alone travel protection plan, but an optional add-on coverage that expands trip cancellation coverage to include canceling a trip for any reason. The additional coverage must be added to the Group Deluxe plan at the time of original plan purchase and within 14 days of the date your initial trip deposit is received. Additional terms apply..
Do You Want to Plan a Trip for Your Group?
Select International Tours and Cruises was established in 1987 to help you organize group travel. You can be confident in choosing Select because you will be getting expert advice, carefully planned trips, and complete support from a company with over 30 years of hard-earned expertise.
Our specialized approach to faith-based travel keeps our clients returning year after year. And we are excited to help you organize a focused and prayerful pilgrimage!