Holy Land and Jordan Pilgrimage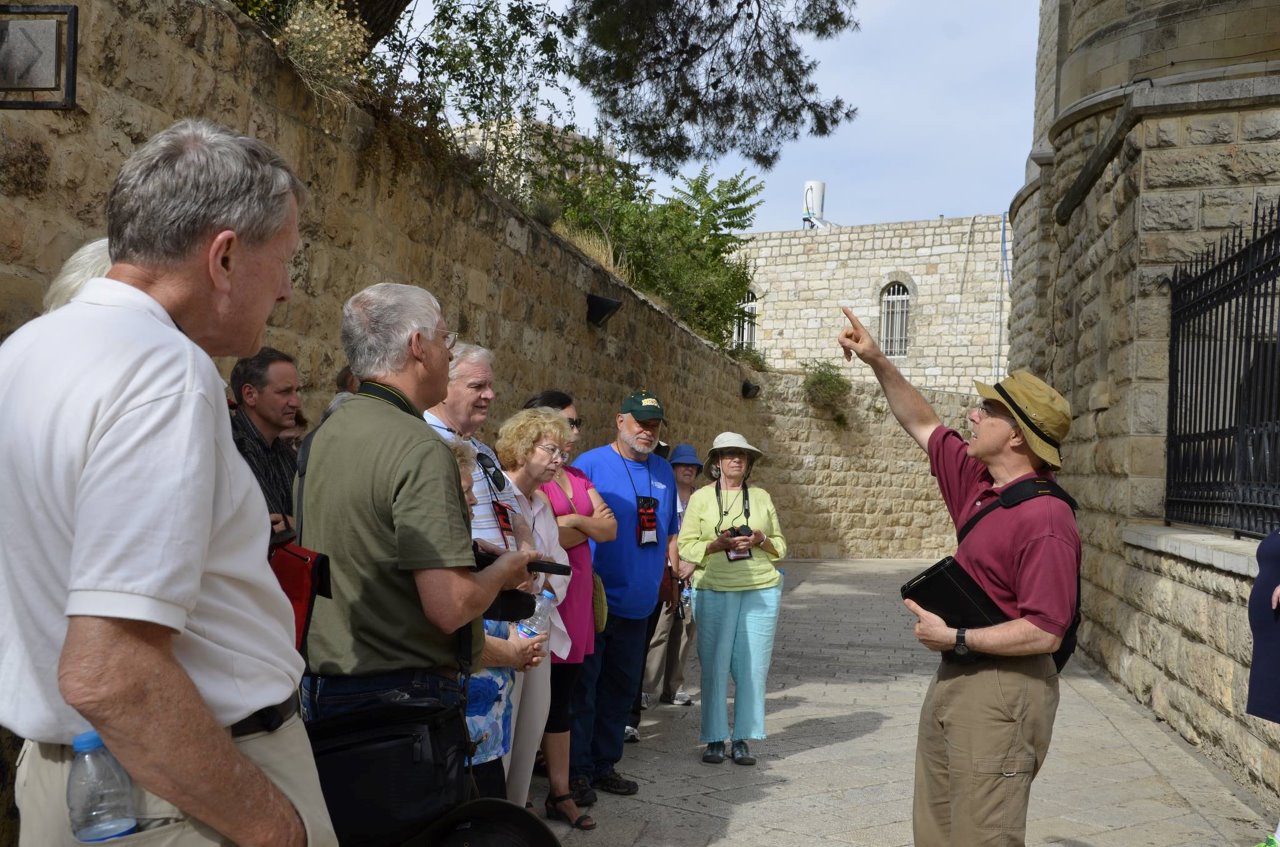 Visit the birthplace of Jesus in Bethlehem; cross over the Sea of Galilee where Jesus walked on the water. Take a drive on the coast of the Dead Sea; and then effortlessly float in the salt concentrated waters of the Dead Sea. Jerusalem is the highlight of your trip, where you will see Golgotha near where Jesus was crucified, the Western Wall, the Temple Mount, and the Mount of Olives. A trip to Israel allows you to experience just a taste of the Bible's richness and reality. You will never read your Bible in the same way again as you gain a fuller understanding from your Israel experience.
Read More About Traveling to the Holy Land
Is it Safe: Traveling to and from the Holy Land
Anticipation
"Oh, please be careful. It's so dangerous over there."
I knew my friend meant well, but her words were not comforting. I was only a few days away from departing for the Holy Land and my nerves were already raw from packing, checking flights, reading weather reports, finding someone to care for my cat, and scheduling a ride to the airport.
I had dreamed about visiting the places where Jesus walked since High School. That dream was jaded by year upon year of news reports featuring skirmishes and wars in and around Israel. The picture the media had painted was unnerving. I wanted to be excited, but in all honesty, I was a little scared and my friend's words were not helping.
A family member drove me to the airport, warning me on the way to, "please be careful." Was I making a mistake? Was I putting myself in harm's way? I am normally very excited to get on a plane, but all these warnings made me very anxious.
I flew through Toronto on my way to Tel Aviv. The first flight was uneventful, and I arrived with plenty of time to make my connection. I found my next gate on the monitor and headed there to wait for boarding. When I arrived, there was an additional security checkpoint…only for our gate. I had never experienced this before. I waited in the line and reached the guard who examined my passport and boarding pass and asked me a few questions. He directed me to yet another bag check.
My mind raced. Why is there so much security? Is there a threat? Is something wrong? Should I walk away from this flight? The questions echoed in my head as I eyed every passenger waiting for the flight. With each reverberation, I heard the words of my loved ones, "Please, be careful." It was only through the grace of Our Lord that I boarded that flight. My mind was working overtime to convince my body to abandon it.
The Truth
If you have never traveled to Israel, I imagine you are facing the same fears that I did. I imagine that the news, friends, and family are warning you to, "please be safe," as well. Most of all, I imagine that you are asking the same question that I did; "Is this trip even worth the risk?"
Let me put your mind at ease. Yes, it is worth the risk. And, perhaps more importantly, the "risk" is unjustly amplified. I have never traveled anywhere in the world where I felt safer than the Holy Land. Now that I have traveled there and back, I would return in a heartbeat! But I did learn a lot along the way that might help you feel a little more prepared for your trip.
Additional Security
I learned that additional security is normal for Israel. In fact, the security in place while boarding a flight is only the beginning. There are special restrictions to stay in your seats while in Israeli air-space. There are multiple security stops in the immigration and customs line. And, while traveling through the country, there are random security checkpoints on roads and at Palestinian Territory borders.
It was initially unnerving to answer questions of a security officer dressed in military fatigues and holding a weapon, but, in my experience, they were always pleasant and calm. They asked simple questions, checked my passport, then sent me on my way.
Crime and Common Precautions
Crime rates, in most cases, are significantly lower in Israel than the USA*. Violent crime is significantly less common. Still, this doesn't mean you should be naïve. Petty theft from pickpockets and burglaries at tourist hotels still happen. So, take the same precautions you would take when traveling to any major city: use the hotel safe, carry a secure backpack or purse, and keep all your belongings on you.
When you stop to rest, eat, or sightsee, keep your belongings attached to your person or on your lap. Don't leave your bag on the ground or hanging on your chair. Additionally, ALWAYS carry your passport and leave a photocopy in the hotel safe.
Mentally Prepare
The political complexity of the Middle East requires additional patience from travelers. Mentally prepare yourself and expect to wait in security lines, answer questions about your travels, and show your passport. Pay attention to your guides' instructions. They are familiar with the checkpoints and security requirements and their insight can significantly reduce the inconvenience. Security personnel are simply doing their job to keep everyone safe. A warm smile and friendly demeanor on your end will often be met with the same from them.
Upon Departure
Departing Israel from the airport is far different from most places in the world. There are multiple security checkpoints and it can take much longer than usual to get from the curb to your gate, so be patient and allow yourself plenty of time.
On my most recent trip, we were stopped in the car—before entering the airport—for twenty minutes. They checked my bag, asked me and the driver several questions, and checked my passport and flight documents. When entering the airport, I had to go through two security checkpoints before entering the bag check. At the second checkpoint, they asked me several questions then instructed me to one of four bag-check lines.
In Israel, they profile every traveler and send them to a specific line depending on their "reading" of the individual. Don't let this frustrate you. It is just part of the trip. While standing in the bag-check line, you will be asked the same questions you were already asked several times. Again, a warm smile and friendly demeanor will serve you well. They will check your bag thoroughly…meaning they may remove every item and inspect it, x-ray it, chemically test it, or even ask you questions about it. The process takes significantly longer than a TSA check in the USA, so exercise patience.
On my most recent trip, I arrived at the airport 3 hours and fifteen minutes before my flight. After all the security checkpoints and bag-check, I arrived at my gate, ready to board, with forty minutes to spare. The whole process took two hours and thirty-five minutes.
Conclusion
After a long flight, I walked to the Immigration officer at Newark International Airport. She glanced at my passport and asked how long I had been in Israel. "Seven days," I replied.
"Wow. Short trip. Welcome home." She waved me through.
I found my friend waiting for me outside the bag check. "Well, how was it?" She asked.
"Great. Israel is nothing like I expected. I can't wait to go back." I said.
"Really?"
Yes, really. My trip was short, but life-changing. There really is no way to translate all that happened to me in the Holy Land. I know that I'll never be the same after the trip. I can see the whole story of our faith so differently now. And when friends ask me if Israel was frightening to visit, I tell them, "It was, no big deal." They think I'm an intrepid traveler, but really, I'm just being honest.
*According to nationmaster.com (accessed September 12, 2019)
What You Should Know Before Go to the Holy Land
What Should I Know Before I Go to the Holy Land?
Communications
INTERNET
Most hotels in Israel have connections for laptops, and most have wireless access. Ask about the price, as some charge for the privilege. You can also find Internet access in most cafés. Large swaths of Tel Aviv have free Wi-Fi, and Jerusalem has free Wi-Fi in the downtown area, in the German Colony, and Safra Square. Ben Gurion and Eilat airports also have free Wi-Fi. Cybercafes lists over 4,000 Internet cafés worldwide: www.cybercafes.com.
PHONES
Israel's landline phone numbers have seven digits, beginning with a two-digit area code, and mobile phone numbers have ten digits, beginning with a three-digit prefix. Toll-free numbers in Israel begin with 177, 1800, 1700, or 1888. Many toll-free customer service numbers begin with an asterisk followed by four digits. When calling an out-of-town number within Israel, be sure to dial the zero that begins every area code.
The country code for Israel is 972. When dialing an Israeli number from abroad, drop the initial 0 from the local area code. The country code for Jordan is 962. When dialing from Israel, dial 00962 and the area code 3 before landline numbers in Petra; for Amman, use 00962 and the area code 6. When dialing within Jordan, include the initial 0 from the area code.
CALLING WITHIN ISRAEL
Making a local call in Israel is quite simple. All public telephones use phone cards that may be purchased at newspaper kiosks and post offices. Pick up the receiver, insert the card in the slot, dial the number when you hear the tone, and the number of units remaining on the card appears on the screen. One unit equals about two minutes. From 7pm to 7am, calls are much cheaper. The area codes for dialing between cities within Israel are Jerusalem (02); Tel Aviv (03); Netanya and Herzliya (09); Haifa, Galilee, Tiberias, Tzfat, and Nazareth (04); Eilat and the Negev (08).
Dial 144 for directory or operator assistance. Operators all speak English. Dial 188 for an international operator.
CALLING OUTSIDE ISRAEL
When calling internationally direct from Israel, first dial 00 then the country code. The country code for the United States and Canada is 1.
You can make international calls using a telecard from a public phone. A call from Israel to the United States costs 2.5 units a minute, or about 40¢ per minute.
ACCESS CODES
AT&T Direct (180/949–4949. www.att.com.)
MCI WorldPhone (180/940–2727. www.mci.com.)
Sprint International Access (180/938–7000. www.sprint.com.)
MOBILE PHONES
If you have a multiband phone and your service provider uses the world-standard GSM network (like T-Mobile, AT&T, and Verizon), you can probably use your phone abroad. Roaming fees can be steep, however: 99¢ a minute is considered reasonable. Overseas you normally pay the toll charges for incoming calls. It's almost always cheaper to send a text message than to make a call.
If you just want to make local calls, consider buying a new SIM card (note that your provider may have to unlock your phone to allow a different SIM card) and a prepaid service plan in the destination. You then have a local number and can make local calls at local rates.
If you travel internationally frequently, save one of your old mobile phones or buy a cheap one on the Internet; ask your cell-phone company to unlock it for you, and take it with you as a travel phone, buying a new SIM card with pay-as-you-go service in each destination.
Depending on your cell phone provider's global roaming rates, it could be cheaper to rent a cell phone at Ben Gurion Airport or order a rental phone to arrive at your address before leaving for Israel. Rental booths are in the airport arrivals hall.
Customs and Duties
For visitors with nothing to declare, clearing customs at Ben Gurion Airport requires simply following the clearly marked green line to the baggage claims hall. There are generally no lines and customs inspectors rarely examine luggage. The red line for those with items to declare is next to the green line. Those over 17 may import into Israel duty-free: 250 grams of tobacco products; 2 liters of wine and 1 liter of spirits; ¼ liter of eau de cologne or perfume; and gifts totaling no more than US$200 in value. You may also import up to 3 kg of food products, but no fresh meat.
Money
The currency in Israel is the New Shekel (NIS).  Israel is a moderately priced country compared to Western Europe, but it's more expensive than many of its Mediterranean neighbors. Prices tend to be cheaper in smaller towns. To save money, try the excellent prepared food from supermarkets, take public transportation, eat your main meal at lunch, eat inexpensive local foods such as falafel, and stay at hotels with kitchen facilities and guesthouses. Airfares are lowest November through March, except for the holiday season at the end of December.
Sample prices: cup of coffee, NIS 12; falafel, NIS 12; beer at a bar, NIS 25–30; canned soft drink, NIS 14; hamburger at a fast-food restaurant, NIS 30; short taxi ride, about NIS 35 to NIS 45; museum admission, NIS 50; movie, NIS 38.
Prices throughout this guide are given for adults. Substantially reduced fees are almost always available for children, students, and senior citizens.
Banks never have every foreign currency on hand, and it may take as long as a week to order. If planning to exchange funds before leaving home, don't wait until the last minute.
CURRENCY CONVERSION (USD/NIS)
Google (www.google.com.)
Oanda.com (www.oanda.com/currency/converter.)
XE.com (www.xe.com.)
ATMS AND BANKS
ATMs—called kaspomats in Hebrew—are ubiquitous all over Israel. Look for machines that have stickers stating that they accept foreign credit cards or PLUS, NYCE, or CIRRUS signs. All have instructions in English. Almost all ATMs now have protective shields around the keypad to prevent anyone seeing your PIN.
With a debit card, the ATM gives you the desired amount of shekels and your home account is debited at the current exchange rate. Note that there may be a limit on how much money you are allowed to withdraw each day and that service charges are usually applied. Make sure you have enough cash in rural areas, villages, and small towns where ATMs may be harder to find.
The main branches of all the banks—Hapoalim, Leumi, Discount—are in Jerusalem's downtown area but are arguably the last resort for changing money. Several times a week they have morning hours only (different banks, different days) and give relatively low rates of exchange. It usually involves waiting in line and having the clerk fill out paperwork.
Your own bank probably charges a fee for using ATMs abroad, but some apply no foreign transaction fees. The foreign bank you use may also charge a fee. Nevertheless, you usually get a better rate of exchange at an ATM than in a bank. Extracting funds as you need is a safer option than carrying around a large amount of cash.
PIN codes with more than four digits aren't recognized at ATMs in Israel. If yours has five or more, remember to change it before you leave.
CREDIT CARDS
It's a good idea to inform your credit-card company before you travel, especially if going abroad and not traveling internationally often. Otherwise, the credit-card company might put a hold on your card owing to unusual activity. Keep all your credit-card numbers and phone numbers to call if your cards are lost or stolen in a safe place. Both MasterCard and Visa have general numbers you can call (collect if you're abroad) if your card is lost.
All hotels, restaurants, and shops accept major credit cards. Plastic is also accepted at banks for cash advances. Visa and MasterCard are widely accepted. Most credit cards offer additional services, such as emergency assistance and insurance. Call and find out what additional coverage you have.
Passports and Visas
Israel issues three-month tourist visas free of charge at the point of entry when a valid passport is presented. Make sure your passport is valid for at least six months after your travel date or you won't be permitted entry. No health certificate or inoculations are required. Many Arab and Muslim countries in the Middle East, except Egypt and Jordan, have long refused to admit travelers whose passports carry any indication of having visited Israel. But that shouldn't be a problem now for tourists: Israel doesn't stamp passports anymore, only issues entry and exit permits on small slips of paper. Keep your entry permit paper in your passport during your visit.
EMBASSIES
U.S. Embassy (71 Hayarkon St., Tel Aviv, Tel Aviv, 6343229. 03/519–7575. israel.usembassy.gov.)
Restrooms
Public restrooms are plentiful in Israel and similar in facilities and cleanliness to those in the United States. At gas stations and some parks, toilet paper is sometimes in short supply, so you might want to carry some with you. Few public sinks, except those at hotels, have hot water, but most dispense liquid soap. Occasionally you may be asked to pay one shekel at some facilities.
Tipping
There are no hard-and-fast rules for tipping in Israel. Locals do not tip taxi drivers. In other situations, a gratuity for good service is in order. If you've negotiated a price, assume the tip has been built in. If a restaurant bill doesn't include service, locals tend to tip 10% to 15%—round up if the service was particularly good, down if it was dismal. Hotel bellboys should be tipped a lump sum of NIS 10 to NIS 20, not per bag. Tipping is customary for tour guides, tour-bus drivers, and chauffeurs. Bus groups normally tip their guide NIS 30 to NIS 40 per person per day, and half that for the driver. Private guides normally get tipped NIS 100 to NIS 120 a day from the whole party. Both the person who washes your hair and the stylist expect a small tip—except if one of them owns the salon. Leave NIS 10 per day for your hotel's housekeeping staff, and the same for spa personnel.
Select Works With the Best Guides
Select International Tours only works with the best and most ethical guides in the business. We wouldn't trust your trip to anyone we don't trust. 
I'm emailing to give a strong and heartfelt recommendation for our Holy Land guide, Hani. I also commend the bus driver, though I must admit I've forgotten his name. I recall that at some of the sights where Hani shared a short spiritual reflection/comment—and I happened to be scheduled to preach at Mass at that site—I thought that what he shared was as worthwhile and inspiring as anything I had preached or was planning to preach, depending on whose comments had come first.