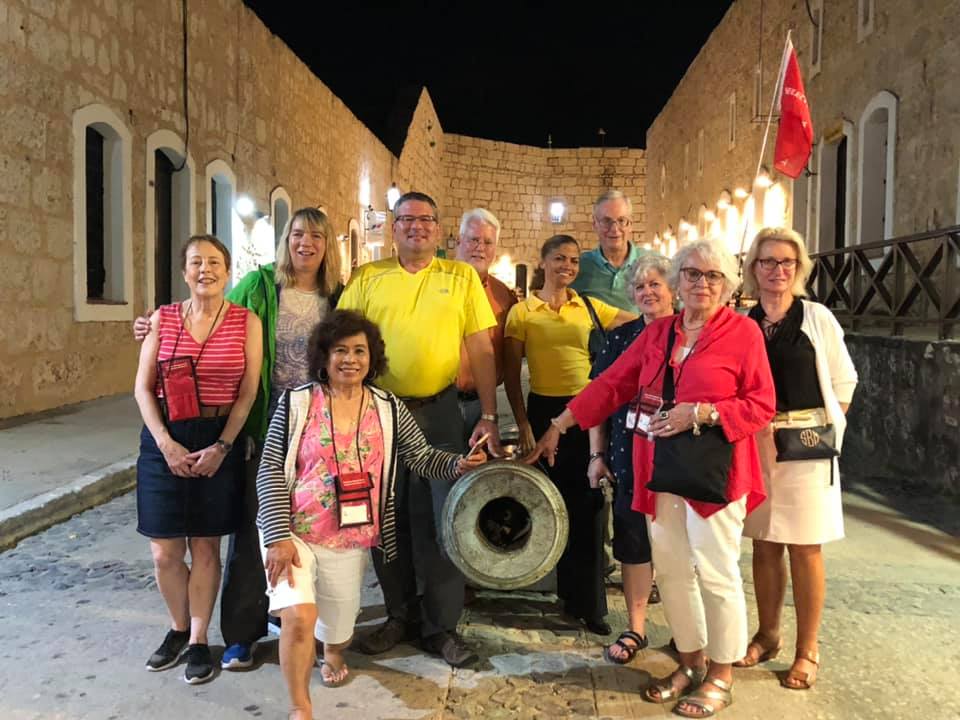 You don't have to leave North America to go on pilgrimage! There are many Cathedrals, Marian Apparition Sites, Missions, and Catholic history closer to home than you might think. Whether you are visiting Our Lady of Guadalupe in Mexico, the Shrine of Our Lady of Guadalupe in Wisconsin, the California Mission of California, or exploring Catholic Cuba, Select International Tours and Cruise has a trip for you.  
Read More About Traveling to Canada, Mexico, and Cuba
What Should I Know Before I Go to Canada, Mexico, and Cuba?
DRINKING WATER
While Mexico has made many improvements in water treatment, it is still important to exercise caution when using it. Use bottled water for drinking, taking medication, and brushing your teeth. While this may seem overly cautious, your digestive tract will thank you.
ALSO, if you brush your teeth in the shower, please consider using bottled water during your stay in Mexico.
Communications
INTERNET
Many airports in Mexico DO NOT offer free WiFi. When available, WiFi is usually time-limited and the service can be spotty. We recommend downloading and printing boarding passes unless you plan on using a smartphone with active cellular and data service while in Mexico. Please check with your carrier before departure to assure that: service exists for your carrier and equipment and that the costs are acceptable.
Internet cafes have become plentiful and offer the use of public computers or your personal computer. Also, many eateries and hotels offer free Wifi for customers. Please take proper security precautions with your data if you choose to use an internet cafe' or public (open) WiFi.
CONTACTS
Cybercafes. Lists more than 4,200 Internet cafés worldwide. www.cybercafes.com.
Gonuts4free. www.gonuts4free.com/yellow/internetcafes.
PHONES IN MEXICO
The good news is that you can now make a direct-dial telephone call from virtually any point on earth. The bad news? You can't always do so cheaply. Calling from a hotel is almost always the most expensive option; hotels usually add huge surcharges to all calls, particularly international ones. In some countries, you can phone from call centers or even the post office. Calling cards usually keep costs to a minimum, but only if you purchase them locally. And then there are cell phones, which are sometimes more prevalent—particularly in the developing world—than landlines; as expensive as mobile phone calls can be, they are still usually a much cheaper option than calling from your hotel.
Note that many US mobile phones work in Mexico, but they may incur "Roaming" charges while doing so. Be sure to contact your carrier for the best option before departure. If you have an "unlocked" phone. Local SIM cards are available inexpensively at most airports and convenience stores in Mexico.
A cheap and usually free alternative to using a phone is calling via your computer with a VOIP provider such as Skype or FaceTime or installing a free messager/call app on your smartphone, such as LINE.
The country code for Mexico is 52. The country code is 1 for the United States and Canada. To place a call to the USA, dial 001, the area code, and the number.
CALLING OUTSIDE MEXICO
International calls are awkward from coin-operated payphones and can be expensive from hotels. Your best bet is to use a public phone that accepts phone cards.
To make an international call, dial 00, then the country code, then the area code and number. Before you leave home, find out your long-distance company's access code in Mexico.
PHONES IN CANADA
Your U.S. cell phone will work in Canada but the charges will be astronomical if you don't let your carrier know you are heading out of the country and have them work out texting and calling packages for you while you're away.
If you don't set up a special plan, be sure to turn off your cellular data in settings and only download email when you're hooked up to WiFi.
Electricity
Mexico's electrical current is 127 volts, 60 cycles, alternating current (AC); wall outlets take the same plug as the USA and the voltage should allow all of your devices to operate as they do in the United States.
Money
MONEY IN MEXICO
Mexico uses the Peso (MXN). Many larger establishments will accept US Dollars, but smaller family-owned shops may not. 
Prices throughout this guide are given for adults. Substantially reduced fees are almost always available for children, students, and senior citizens.
Banks never have every foreign currency on hand, and it may take as long as a week to order. If you're planning to exchange funds before leaving home, don't wait until the last minute.
ATMs AND BANKS
Your bank will probably charge a fee for using ATMs abroad; the foreign bank you use may also charge a fee. Nevertheless, you'll usually get a better rate of exchange at an ATM than you will at a currency-exchange office or even when changing money in a bank, and extracting funds as you need them is a safer option than carrying around a large amount of cash.
PINs with more than four digits may not be recognized at ATMs in Mexico. If yours has five or more, remember to change it before you leave.
You'll find ATMs in every major city in Mexico, as well as in most smaller towns. ATMs will be part of the Cirrus and/or Plus networks and will allow you to withdraw euros with your credit or debit card, provided you have a valid PIN.
Spanish banks tend to maintain an astonishing number of branch offices, especially in the cities and major tourist destinations, and the majority have an ATM.
CREDIT CARDS
It's a good idea to inform your credit-card company before you travel, especially if you're going abroad and don't travel internationally very often. Otherwise, it might put a hold on your card owing to unusual activity—not a good thing halfway through your trip. Record all your credit-card numbers—as well as the phone numbers to call if your cards are lost or stolen—in a safe place, so you're prepared should something go wrong. Both MasterCard and Visa have general numbers you can call (collect if you're abroad) if your card is lost, but you're better off calling the number of your issuing bank since MasterCard and Visa usually just transfer you to your bank; your bank's number is usually printed on your card.
If you plan to use your credit card for cash advances, you'll need to apply for a PIN at least two weeks before your trip. Although it's usually cheaper (and safer) to use a credit card abroad for large purchases (so you can cancel payments or be reimbursed if there's a problem), note that some credit card companies and the banks that issue them add substantial percentages to all foreign transactions, whether they're in a foreign currency or not. Check on these fees before leaving home, so there won't be any surprises when you get the bill.
Before you charge something, ask the merchant whether he or she plans to do a dynamic currency conversion (DCC). In such a transaction the shop, restaurant, or hotel (not Visa or MasterCard) converts the currency and charges you in dollars. In most cases, you'll pay the merchant a 3% fee for this service in addition to any credit-card company and issuing-bank foreign-transaction surcharges.
DCC programs are becoming increasingly widespread. Merchants who participate in them are supposed to ask whether you want to be charged in dollars or the local currency, but they don't always. And even if they do offer you a choice, they may well avoid mentioning the surcharges. The good news is that you do have a choice. And if this practice really gets your goat, you can avoid it entirely thanks to American Express; with its cards, DCC simply isn't an option.
MONEY IN CANADA
All of Canada uses the Canadian Dollar (C$ or CAD). The Canadian dollar's value floats against that of all other major currencies.  Canadian bills or bank notes are commonly available in $5, $10, $20, $50 and $100 dollar denominations. Foreign currencies are easily changed into Canadian dollars at currency exchange kiosks at airports, border crossings, large shopping malls and banks. Many places near the Canada / U.S. border – tourist destinations especially – accept U.S. dollars, but exchange rates vary by retailer and likely are less favorable than bank exchange rates
Credit cards and debit cards are widely accepted across Canada and ATMs are easy to find in urban areas so it's not necessary to bring loads of cash.
Passports and Visas
PASSPORTS IN MEXICO
Visitors from the United States need a passport valid for the entirety of their trip to Mexico.
Before your trip, make two copies of your passport's data page (one for someone at home and another for you to carry separately). Or scan the page and email it to someone at home and yourself.
VISAS IN MEXICO
Visas are not necessary for those with U.S. passports valid for the duration of their stay, providing that they stay for less than 180 days. 
PASSPORTS IN CANADA
All U.S. citizens arriving in Canada must have a valid passport.
Restrooms and Water
In Mexico, you may see a wastebasket next to the toilet. If you see this, you are expected to deposit used toilet paper in the basket rather than in the toilet. Some septic systems are unable to handle toilet paper without costly repairs. Larger establishments in larger cities are better prepared to deal with waste. Your best option is to use the facilities in a bar or cafeteria, remembering that at the discretion of the establishment you may have to order something. 
SHOWERING/BATHING
Bathing in Mexico shouldn't cause you any trouble, but be careful not to get water in your mouth in the process. If you brush your teeth in the shower, use your time in Mexico to break the habit.
Tipping
Servers at restaurants that do not list a service charge on the bill should be tipped 10-20% of the bill, based on the service.
Taxi drivers generally do not expect tips, unless they help with your bags, then 10 Pesos is warranted.
Tip hotel porters who show you to your room and help with luggage 25-50 Pesos. Housekeeping staff should be tipped 25-50 Pesos a day.
Special Consideration: Altitude Considerations in Mexico City
Mexico City sits at a much higher altitude than many US travelers are accustomed to. We suggest reading through the following guide to familiarize yourself with the signs, symptoms, and treatment of Altitude sickness.